PlastiCycle is set to double its processing capacity and invest in a wash line as part of a $6 million expansion project.
The 60,000-square-foot Franklin, Ky. building will be a near-clone of the company's current Nashville, Tenn. operation, said Anthony Corso Jr., vice president of sales for the firm.
"We've already started reaching out to local suppliers in the area and there's businesses we're turning away in Nashville just because of space and labor constraints," Corso said.
PlastiCycle, a reclaimer founded in 1998, serves manufacturers, compounders and converters throughout the United States. PlastiCycle is based in White Plains, N.Y., near New York City, but the operations are located in the Southeast.
When the company opened the Nashville location 20 years ago, it was in a commercial area, Corso said. But now, "real estate in Nashville has exploded and went from us being in a commercial area to now housing being built around us."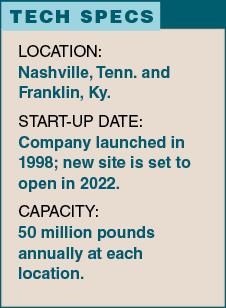 Franklin, which is just under an hour north, is a "good second location" for PlastiCycle, Corso said, allowing the company to stay close to current customers and the current operation.
"We have developed a foothold in the area, where we've got a number of suppliers and customers relatively local to us," he said. "We're in a position where we can accommodate nationwide service from the Southeast."
The Nashville facility has two grinding lines and a pelletizing line, and the Franklin building will mirror that arrangement. However, Corso said the new space will have a wash line, too.
"That will help us take on additional post-consumer material as well, and branch into that segment of the industry where we mainly do post- industrial right now," he said, adding that the wash line could also help the company take on dirtier post-industrial material.
In early 2022, PlastiCycle started moving material into the Franklin warehouse, and Corso said the equipment was expected to be installed by early March.
Right now, the Nashville facility is processing about 50 million pounds of HDPE, PP and other resins annually, and the Kentucky location should be able to match that number.
PlastiCycle expects to hire about 25 employees to work at the new facility. The company has about 35 workers in Nashville.
This article appeared in the Winter 2022 issue of Plastics Recycling Update. Subscribe today for access to all print content.