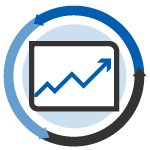 August has brought precipitous drops in pricing for PET, color HDPE and polypropylene bales.
The national average price of post-consumer PET beverage bottles and jars dropped by 61% this month and is now averaging 10.31 cents per pound. That compares with 26.16 cents per pound this time last month. And last month's price reflected a 30% drop from June numbers. 
As of this month, some regions are still trading as high as 12.00 cents per pound – with some offering as low as 6.00 cents. PET was trading at 24.72 cents one year ago.
RecyclingMarkets.net sent a letter earlier this month to its subscribers explaining some of the factors behind the PET decrease, as relayed to the service by major industry players. The letter noted a consistent decline in pricing over the past few months, from a recent high of nearly 40.00 cents in May.
Among the reasons cited were higher fuel costs, fears of a recession, oversupply in the market (including because of seasonable supply-demand shifts) and end-user summer factory shutdowns. 
RecyclingMarkets.net suggested its members examine historical data to get a longer view of the market and what pricing could mean. For example, the national average price of PET collapsed from 20.75 cents in September 2008 to 4.13 cents in December 2008. Historically, most price trends of recycled materials are indicators of what is to come in the general economy, both ups and downs, the letter stated. 
According to the tracking service, besides PET, a number of other grades have also nose-dived this month. 
The national average price of color HDPE is down dramatically, now trading at 11.88 cents per pound. It was 22.03 cents this time last month. That represents a fall of 46%. This grade averaged 58 cents per pound one year ago.
Additionally, post-consumer polypropylene decreased markedly. The plastic is now trading for 16.13 cents per pound, down from 22.03 cents last month, or a decrease of  27%. PP was 38.28 cents one year ago.
For other materials, the prices were relatively stable or slightly up. 
Natural high-density polyethylene (HDPE) is down slightly, now at an average 45.50 cents per pound. This compares to 46.75 cents last month. The price was 108.13 cents this time last year. 
The national average price of Grade A film remains steady, now at 22.69 cents per pound, compared to 22.56 last month and 20.13 cents one year ago. 
Grade B film is 8.31 cents, compared to 8.19 one year ago. 
Lastly, Grade C film is still averaging 1.13 cents per pound.
These prices are as reported on the Secondary Materials Pricing (SMP) Index. This pricing represents what is being paid for post-consumer recyclable materials in a sorted, baled format, picked up at most major recycling centers. 
For a free trial to SMP's Online Post-Consumer Pricing Index, visit the Recycling Markets website. You can also contact Christina Boulanger-Bosley at [email protected] or 330-956-8911.
More stories about markets