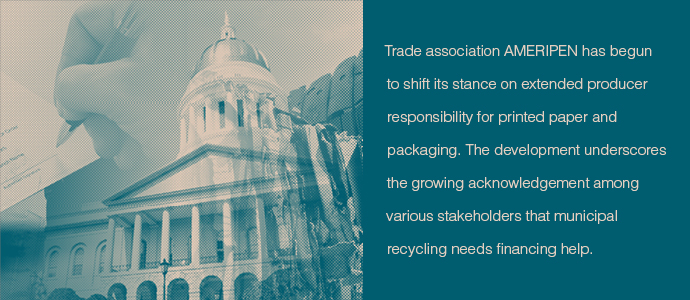 This story originally appeared in the Winter 2021 issue of Plastics Recycling Update. Subscribe today for access to all print content.
As recycling markets have been thrown into turmoil in recent years due to China's import shifts, the North American industry has seen facilities close, programs shorten acceptable-material lists and major tonnages of collected paper and plastic head to landfill.
It's clear local recycling coordinators aren't the only ones noticing the difficulties. On both the federal and state levels, policymakers have begun advancing extended producer responsibility (EPR) legislation that would mandate printed paper and packaging producers fund end-of-life management for what they put on the market. In fact, in 2020, it was widely expected at least one state would pass such a bill, but the COVID-19 pandemic derailed progress.
As 2021 legislative sessions get underway, printed paper and packaging EPR is back on the docket in a number of states. And now it seems that packaging producers themselves are opening up more to the prospect of providing direct recycling funding support.
Plastics Recycling Update recently talked with two individuals that help shape policy for packaging group AMERIPEN: Dan Felton, who is AMERIPEN's executive director, and Andy Hackman, principal lobbyist at Serlin Haley LLP, a public affairs firm that represents AMERIPEN.
They noted the organization has made a notable shift in how it's approaching state-level EPR legislation, one that's driven by a recognition that action is needed to keep recycling viable. They also discussed how the EPR discussion may be set to unfold in the coming year.
First, could you explain who AMERIPEN represents and how that shapes how you are approaching current policy discussions?
Dan Felton: AMERIPEN was founded just over 10 years ago, in some respects in response to the producer responsibility conversation we were having at that time around packaging and paper. Some would say AMERIPEN was founded to oppose those discussions, though that's not really accurate. AMERIPEN represents the entire packaging value chain, and that was really the reason AMERIPEN was founded – so there was an advocacy and policy voice, not just for the brand owners, but as well for the packaging manufacturers, material suppliers and the end-of-life side: the recyclers, converters and reprocessors. They are all stakeholders that are part of the process.
As a group, how has your thinking evolved around EPR policy, if at all?
Felton: AMERIPEN's thinking on it – our position, if you will – has definitely shifted over the last 18 months. Really over the last two to three years, we saw the conversation start to ramp again for EPR for packaging and paper, with many states starting to look at it. AMERIPEN really looked at the reality and said, "This conversation isn't going away in the U.S. It's very likely something is going to be enacted, likely first and maybe only at the state level." In May of 2020, we released "Principles and Objectives for Advancing Packaging Recycling in the U.S." That was really sort of a very high level look at our policy principles and objectives. From there we spent several months really looking at what types of funding mechanisms we might be able to support. That led to a policy our board adopted at the end of October of last year where it's taking it to the next level, sort of lining up state proposals with our principles and objectives and policy and saying, "What might we be able to support – or, at a minimum, not oppose?"
So are you saying AMERIPEN supports EPR if certain conditions are met?
Felton: I would not say wholeheartedly we're in support of extended producer responsibility, but our policy does say we will support these proposals, particularly at the state level, if they meet certain requirements. That is a distinct shift from where AMERIPEN was even a year ago. A year ago we testified in Maine in mid-February, and at that point we were saying, "We oppose this, we can't support this bill." Nearly a year later, we can say, "Here's what we're for." That's a big shift for us.
What are the factors that seem to be driving so much current activity around EPR for packaging in different states and even federally?
Andy Hackman: It certainly has been driven by impacts of the China Sword. Particularly now, after COVID, it's the impact of municipal budgets around recycling. I think there's definitely enough interest at the state level in finding solutions and there's also been greater commitment within the industry to say, "We don't want recycling to go away because the municipality is trying to make a decision between providing, say, PPE to firefighters or continuing recycling." AMERIPEN members want to continue to see materials moving into recycling.
You've noted that EPR for packaging seems most likely to happen at the state level, not the federal level. Could you explain that more?
Hackman: First is the fact that solid waste is something that at least in the current federal structure is the responsibility of the states. We've had discussions with people involved in the the Udall-Lowenthal package [the wide-ranging Break Free From Plastic Pollution Act, which was introduced in Congress in February 2020], and I think even there, there's some recognition that it's a challenging issue to regulate nationally. Not to say there wouldn't be the ability to do that, but it is going to take participation by the states helping to administer whatever a national program may look like.
Felton: Also, AMERIPEN sees value in the idea of a national structure that could support the states. So states could possibly develop their own EPR laws and have that all work under the national structure. One thing we're really interested in is having some uniformity in things like definitions, which could come at the federal level. We were discussing one state proposal that's looking at what "recyclable" means. If you have 50 states, or even 20, defining recyclable in different ways, that creates a huge barrier for the industry to be able to move products back and forth. If you have standards on some of those things, that's a great place where we believe the federal government or U.S. EPA can play a great role even as state statutes may roll out.
Hackman: There would be real benefits to allowing a producer to participate hopefully in one national program that feeds out to each one of the states. That's opposed to a situation where in each state you have to create a different producer responsibility organization, or PRO [a nonprofit group that would work on behalf of covered producers to fulfill the requirements of the program], and different fee structures, and then you've got 50 different memberships. That's not really sustainable from a brand company perspective.
You mentioned this policy that AMERIPEN finalized last October touched on the specifics of what the group might support. What are those details?
Felton: We already mentioned this concept of a national PRO structure – that's something we'd like to see. We're also pretty clear we don't want money from industry to go to the landfilling of packaging, which some states might propose. It sort of seems like a no-brainer, but there may be states that say, "Reimburse us and we're going to take your packaging and landfill it." That's an example of something that's not acceptable to us. If we're going to be trying to innovate and increase packaging recycling, then we certainly don't want to be paying for something simply to be landfilled. That gets us into a deeper discussion about whether we are paying for municipal collection or paying for the cost to innovate and expand reprocessing to bring back more material into the circular economy.
Hackman: Also, we'd like to make sure we have the ability to make collaborative decisions instead of having the state agency make all the decisions. We'd like to see a PRO with stakeholders – including folks in the solid waste community and municipalities – making decisions together about how investments should be made.
On that point about not having producers pay for landfilling – certainly that makes sense, but aren't there also certain types of packaging, such as flexible film, that really don't have recycling markets? If you are being asked to fund end-of-life management for all packaging and some packaging has no options beyond disposal, it seems like you'd need to pay for that, right?
Hackman: We've certainly heard that concern. But think of a scenario where a municipality that is struggling with their program is given essentially two options: there's money for recycling, which takes more effort and planning, or there's a lower amount of money perhaps for landfilling. For some municipalities, it might be very appealing to just take the landfill money. So you don't see improvement in delivering on the goal of the legislation. For some materials, you're right – landfill might be the only outlet right now, but that doesn't mean we need to make landfilling even cheaper for a municipality to do. To help recycling for those materials, there might be a need for incremental steps and evaluating some technologies, but better to be doing that than supporting an option that might have a negative consequence.
What are the states on your radar when it comes to EPR bills being introduced and possibly moving forward?
Hackman: In Maine, there have already been legislative requests released. We've been involved with some of those. We know Vermont is going to have some interest. Maryland has had a bill filed. We're also watching New York, Oregon and Washington. And then in California, we see the proposal as a hybrid. In California, we know that Senate Bill 54 is going to be back, but that's really more goal-driven and state-agency-driven. I think those are the states you figure are going to be the most active, but there is definitely a lot of interest so I would not be surprised if there are a few other states that add to that tally.
Could you talk a little more specifically about the state of discussions in Maine? It seems like EPR policy has gained a significant amount of traction there.
Hackman: We had expected before COVID that Maine would potentially pass LD 2104 last year. We had concerns at the end of that process. They never came back for a special session in Maine last year, and to some extent, we are appreciative that the legislature did not try to ram that through. We had had conversations with legislators in Maine explaining that this was really a difficult thing to try to move quickly. We've been able to continue to talk to folks around the vision of something we believe might be more workable. What we discussed earlier about landfilling – Maine is really the only state that had proposed reimbursement for landfilling thus far. But we do think they are going to be relatively early [in terms of possibly approving legislation]. They have had relatively mature discussions.
Are there any states that have developed proposals that seem particularly good from the AMERIPEN perspective?
Hackman: You've got a wide variety right now. Oregon's bill is 66 pages, I think Washington's is 60-plus pages. And Maryland's is eight pages. So there's just different levels of detail that are going into each one of the proposals. There is not one yet that is going to generate our broad support, but we've been encouraged by the discussions in a number of states. We've had pretty open doors in a number of states. Maryland and New York stick out to me in terms of where we've had the ability to have really good discussions. And I should say Oregon too – Oregon's department has been particularly forthcoming reaching out to us on their proposal. But it is 66 pages, which makes it a whole lot more complex when it comes to figuring out where we need some significant changes.
You noted earlier that as a group representing the entire packaging value chain, AMERIPEN is looking out for the needs of producers but also recyclers and reprocessors. In this type of policy conversation, how do you keep everyone's needs in mind?
Felton: Over the last three months, we really dove deeper into the dialogue specifically in regards to the recycler and hauler part of the question. It's been really encouraging to have that discussion with that part of the industry. Quite frankly, people on that side have been saying nobody's been talking to them about this like AMERIPEN has. And as we have had that conversation, I have not seen significant pushback from producers. All these stakeholders have different interests most definitely, but they understand they're working together.
Dan Leif is the managing editor of Plastics Recycling Update and can be contacted at [email protected].