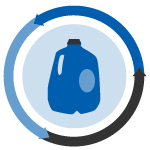 Reclaimers install specially designed shredders, scientists tweak scrap thermosets so they can be remolded, and four technologies win over $1 million in grants.
Outlet for 3-7 bales: A plastics reclaimer will invest over $7 million to build a facility in New York to process difficult-to-recycle plastics, according to Plastics News. The Empire Polymer Solutions facility near Syracuse will take in low-value mixed-plastic bales, which have lost export markets over the last several years. The company will sort out and recycle the PP in the plastics Nos. 3-7 bales while also trying to find ways to make products out of the other polymers. The company president said the facility will use customized equipment, including wash lines.
Shredder advancements in action: Two shredder companies recently put out case studies on how their products have helped plastics reclaimers. Lindner issued a release describing how its Micromat 2000 shredder with its new Multiplex cutting system has helped Lohner Kunststoffrecycling, a production scrap reclaimer in Vechta, Germany that processes about 45,000 metric tons per year. Separately, Weima issued a release describing how German reclaimer Inoplast Kunststoff is using two Weima WLK 15 Jumbo single-shaft shredders to size-reduce polyamide airbag laminate scrap, which is extremely tear-resistant and difficult to shred. Inoplast Kunststoff opted for a high-throughput hydraulic-drive variant of the shredder.
Chemically recycling PLA: Scientists at two U.K. universities have developed a process to convert scrap polylactic acid (PLA) into a biodegradable solvent product for use in cosmetics and pharmaceuticals. The team from the universities of Birmingham and Bath used a zinc-based catalyst and methanol to break down PLA into methyl lactate. They tested the process on a disposable cup, 3D printer scrap and a children's toy. Results of their research were published in the journal Industrial & Engineering Chemistry Research. "We were excited to see that it was possible to obtain high quantities of the green solvent regardless of samples' characteristics due to colorants, additives, sizes and even molecular weight," lead author Luis Román-Ramírez of the University of Birmingham's School of Chemical Engineering, stated in a press release. 
Sortable black pigment: Another infrared-recognizable black pigment for packaging has been released to the market. The Shepherd Color Company announced the release of Arctic Black 10P925, a pigment that can be detected by optical sorters. The single-pigment solution can survive multiple extrusions and has food packaging compliance in the European Union market, according to a press release. It is designed to replace the use of carbon black, which absorbs light from optical sorter light emitters, making it so the sensor can't see the plastic or identify the polymer. Just two months ago, chemical company BASF also released an NIR-sortable black colorant. 
Remolding thermosets: Scientists at Case Western University developed a technology for recycling thermosets, using a process they developed called  "vitrimerization." The technique involves using a solvent-assisted approach to diffuse a catalyst into epoxy and polyurethane networks. That converts the permanent cross-linked molecular structures of the thermosets into dynamic cross-linked ones, which can be hot-press molded or injection molded into new products. The process is called vitrimerization because it converts the thermosets into a new class of materials called vitrimer polymers, according to a press release from the university. 
Tracing marine plastic: Spanish plastics research institute AIMPLAS wrote about the use of a tracer to verify that textiles came from recycled marine plastics. As part of the European Union-funded OCEANETS project, recovered fishing nets were chemically recycled into nylon pellets. AIMPLAS provided a tracer additive to mix into the pellets, which were then then processed into fabric. Because of the additive, the clothing changed color when exposed to infrared rays, according to AIMPLAS. "This is the first time it has been possible to demonstrate the traceability of the raw material used to make a fabric, which, in this case, is fishing nets," according to an AIMPLAS press release.
Recycling technology grants: The U.K. recycling-support group Waste and Resources Action Program (WRAP) announced four plastics recycling projects have won nearly 1 million British pounds (about $1.27 million). The projects are the following: the PolyChrome technology, which can remove color and other additives from scrap PE and PP; a project to use artificial intelligence to develop a suite of optimal material formulations for complex polymer compounds; a project to develop a new HDPE bottle for Domestos brand bleach that includes over 70% PCR; and a technique to separate layers of different polymers and aluminum from multilayer packaging scrap.
To receive the latest news and analysis about plastics recycling technologies, sign up now for our free monthly Plastics Recycling Update: Technology Edition e-newsletter.