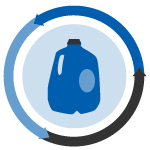 A bottle delabeler goes to work in a PET sorting plant, and a number of major corporations sign deals with chemical recycling companies. 
Detectable black: A BASF brand has developed a new black colorant that is NIR sortable. The Colors & Effects brand announced the availability of the Sicopal Black K 0098 FK, the newest member of the Sicopal Black pigment family. The colorant is meant to replace carbon black, enabling sorting at recycling plants. According to Colors & Effects, the latest offering has high color strength, opacity and food contact compliance. It can be used with all commonly used polymers, including high-heat polymers. A recent article from Plastics Recycling Update explained how colorant providers have worked with packaging and recycling industry stakeholders to develop and roll out NIR-detectable black pigments.
Producer inks PP purification deal: Prime plastic producer Total has signed an offtake and development deal with PP purification technology company PureCycle Technologies. Originally developed at Procter & Gamble, PureCycle's process removes colors, odors and other contaminants from recovered PP. Through the agreement, Paris-based Total will purchase part of the recycled PP produced by PureCycle at its southern Ohio facility. The plant, which is under development, will be capable of producing 48,000 tons per year. Through the deal, Total will also assess building a plant using PureCycle's technology in Europe. 
Bottle delabeler testimonial: A delaber installed at a German PET sorting facility is removing about 80% of bottle labels while processing about 9 metric tons per hour. The equipment was supplied to waste management company RCS by Stadler, which previously provided RCS' full PET sorting line. According to a press release, RCS reports the Stadler Delabeler, which removes shrink sleeve labels before the bottles are sorted, requires less maintenance and its throughput is geared to that of the plant. 
Depolymerizing acrylic: Pyrolysis company Agilyx signed a deal to apply the use of its depolymerization technology to polymethyl methacrylate (PMMA), according to a press release. The Tigard, Ore.-based company signed an agreement with Lucite International (LI), which is owned by Mitsubishi Chemical Corporation, "to use the Agilyx depolymerisation technology to define the most suitable chemical recycling infrastructure for recycling PMMA." A MMA and PMMA producer, LI wants to enable recycling of PMMA products and offer consumers 100% recycled acrylic products.
Plastics "recipe" for high-quality pipes: Plastics Technology takes a close look at how Advanced Drainage Systems (ADS) uses testing and blending to ensure high-quality pipes are produced from recycled HDPE streams. ADS' recycling arm is Green Line Polymers, which supplies the pipe maker with post-consumer and post-industrial plastics sourced from around the country. Last year, ADS acquired Infiltrator Water Technologies (IWT). The recycling branch of IWT is Champion Polymer Recycling, which supplies the septic systems manufacturer with post-consumer plastics. 
Chemical recycling investments: Tire company Michelin joined other investors in putting money into PS depolymerization company Pyrowave. The Montreal-based startup, which uses microwaves in a process of breaking down PS into styrene monomers, announced the investment from Michelin, European venture capital firm Sofinnova Partners and Quebec cleantech venture capital fund Ecofuel. According to a press release, Pyrowave has demonstrated its ability to recover styrene monomers from scrap plastic that can be used to make synthetic rubber for use in tires.
To receive the latest news and analysis about plastics recycling technologies, sign up now for our free monthly Plastics Recycling Update: Technology Edition e-newsletter.