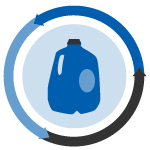 A pelletizing and melt delivery equipment company opened a lab in North Carolina, and a U.S. thermoforms company begins using sheets from resin made partly through a PET depolymerization process. 
Large PET sorting line: German recycling equipment company Stadler has installed a sorting line that is so large it can handle over half the beverage cans and PET bottles redeemed in Denmark. According to a Stadler press release, the company installed the can and PET bottle sorting line for Dansk Retursystem, a nonprofit organization that is owned by breweries and runs Denmark's bottle deposit program. The automated system will work 16 hours a day, 300 days a year, sorting about 25,000 metric tons per year (that's 55% of the country's recycled cans and PET bottles). Producing aluminum and PET bales, the line uses magnetic separation for the cans and NIR sorting for PET bottles, as well as separate equipment to remove loose labels. 
Pelletizing and melt delivery lab: Equipment manufacturer Nordson has opened a pelletizing and melt delivery lab in Hickory, N.C. In late February, the company opened the site, which is at an existing Nordon facility, to serve existing and potential customers in the Americas. According to a press release, the lab has a pelletizing line capable of processing 1,000 pounds per hour, made up of the following: a twin-screw extruder, BKG pelletizer, Optigon self-cleaning process water and pellet drying system, jet cleaner for removing polymer residue from die plates. Both underwater and water ring pelletizers are available for testing. In addition, the melt delivery equipment there includes three HiCon screen changers (backflush, continuous and discontinuous types), a BlueFlow gear pump and a HyFlex diverter valve. 
All-polypropylene food pouch released: Baby food company Gerber is now using an all-PP pouch that was designed in partnership with pouch packaging company Gualapack. The pouch took over two years and multiple iterations of development, a press release states. According to the company, which is a Nestle brand, other spouted porches include either nylon, PET or aluminum in their pouch structures.
Innovative recycled PC technique: Dutch startup Plasticiet is using a technique of kneading and folding recycled polycarbonate to create building blocks for its new Mother of Pearl line of furniture. By working the hot plastic similar to how a candymaker would produce sweet taffy, the company is able to lend a pearlescent look to the plastic, according to dezeen.com. A company co-founder explained that the stretching and folding aerates the plastic. The tiny, captured air bubbles lend an iridescent glow. The website reports Plasticiet works with a number of local recycling companies to obtain scrap plastics, including those with contamination levels that make the plastic otherwise unmarketable.
Line to process contaminated plastics: Recycling technology provider Erema supplied a scrap polyolefins processing line to Kenyan company Mr. Green Africa, which is producing recycled resin for use by Unilever Africa. Since the beginning of this year, the Nairobi-based reclaimer has used the Intarema 1108 TVEplus RegrindPro with laser filter to process HDPE and PP from industrial and household sources, according to a press release. Previously, Mr. Green Africa produced only flakes, and the new system allows the reclaimer to produce pellets from highly contaminated streams, the release states. The system processes up to 1,100 pounds per hour of HDPE and over 1,300 pounds per hour of PP. 
Depolymerizing PET for thermoforming: Plastics News reports a packaging producer is relying on a PET depolymerization process to produce thermoforms with recycled content. Inline Plastics, which is based in Shelton, Conn., is sourcing PET sheets from Oman company Octal Extrusion Corp., which breaks down PET flakes into the plastic's building blocks and re-polymerizes the chemicals into plastic. Octal then ships the recycled-content sheet to one of Inline Plastics' three U.S. manufacturing plants to be converted into thermoforms. According to Plastics News, by buying from Octal Extrusion, Inline Plastics can promise customers each of its products has at least 10% recycled content. Inline acknowledged the recycled-content sheets are price neutral with virgin at the level of 10% recycled content but raising the level may require charging customers a premium.
To receive the latest news and analysis about plastics recycling technologies, sign up now for our free monthly Plastics Recycling Update: Technology Edition e-newsletter.