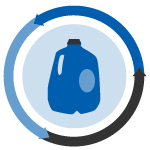 A recyclable Colgate-Palmolive tube undergoes recyclability testing in Europe, and a number of equipment innovations are up for awards.  
Recovering PET from textiles: A British chemical recycling startup has launched an R&D facility to test its technology for recovering PET from mixed polyester-cotton textiles. Worn Again Technologies launched its pilot facility in Redcar, England. The company says its technology is able to produce decontaminated PET and cellulose from cotton from used textiles. 
Testing the tube: A recyclable toothpaste tube developed by Colgate-Palmolive underwent review by the European recyclability review initiative RecyClass. The "Samson Technology" tube, which is made of HDPE with an EVOH barrier layer and a PET insert, was tested by the Institute for Plastics Technology and Recycling in Germany. Testing showed the tube generated recycled plastic on par with HDPE containers – the only adverse impact was a decrease in recycling yields because of mass losses of around 20%, caused by the removal of the PET insert during recycling. RecyClass gave it a thumbs up, as long as certain conditions are met. The tube, which is being used by Tom's of Maine, received Association of Plastic Recyclers (APR) recyclability recognition in April 2019. 
Infinia consortium: Oil and petrochemical giant BP announced the formation of a consortium to advance the company's BP Infinia recycling technology, which is designed to depolymerize opaque and otherwise difficult-to-recycle PET scrap. In addition to BP, the consortium is made up of packaging and recycling company ALPLA; food, drink and consumer goods producers Britvic, Danone and Unilever; and waste management and recycling company REMONDIS.
Award finalists announced: The 2020 finalists for the Plastics Recycling Awards Europe has been announced, and the list includes a variety of processing technologies, recycled-content products, and industry professionals. In just the recycling equipment category, alone, there are six finalists: the Vacunite bottle-to-bottle technology from Erema, gel-less film recycling technology from Caroda BV Polymer recovery and MAS Maschinen-und Anlagenbau Schulz, an intelligent and dynamically controlled shredder technology from Lindner-Recyclingtech, the Granumaster granulator smart control system from Hellweg Maschinenbau, the Adaptive Motor Power (AMP) technology from C.M.G., and a CW Dewiring Machine from Cross Wrap. 
Converting mixed plastics: Chemical recycling startup Licella signed deals to speed up the commercialization of its Catalytic Hydrothermal Reactor (Cat-HTR) technology, a chemical recycling process that converts plastics otherwise destined for disposal into hydrocarbon products. The process can handle loads of different resins and packaging types mixed together, according to the company.
To receive the latest news and analysis about plastics recycling technologies, sign up now for our free monthly Plastics Recycling Update: Technology Edition e-newsletter.
More stories about technology