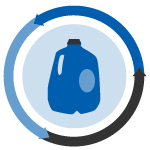 A reclaimer is recovering polyamide from multi-layer films via a solvent-based process, and additive companies release products to boost recycled polyamide and PP. 
Polyamide processing equipment: German reclaimer APK says melt processing equipment from Nordson Corporation is helping it produce high-quality polyamide resin out of multi-layer film scrap feedstock. APK in June opened a plant in Merseburg, Germany, using a process the company calls "Newcycling." That facility, which has a capacity of over 17 million pounds per year, uses a solvent-based process to separate PE and polyamide in post-industrial multi-layer packaging films. To further process the PA into saleable resin, Nordon supplied its BKG equipment, including a BlueFlow gear pump, HiCon screen changer, polymer diverter valve, underwater pelletizer and Master-Line process water/pellet dryer system, according to a press release. 
Researching fishing net recycling: A European project will research both mechanical and chemical processes to recycle plastic from fishing nets into fiber for sportswear and other high-value products. The OCEANETS projects, which is funded by the European Union and coordinated by the Spanish plastics technology center AIMPLAS, has already tested chemical recycling methods on polyamide nets to obtain fibers for clothing. For nets made of other polymers, AIMPLAS is researching mechanical recycling and compounding processes to improve the properties of the material, according to a press release. The OCEANETS project also involves using GPS trackers to prevent the loss of nets in the ocean. The European Union is contributing 426,000 euros (about $476,000) to the project. 
PP technology recognition: PureCycle Technologies' PP purification process is getting some love from a national media outlet: Time magazine. The publication named the company's technology, which was originally developed by a scientist at Procter & Gamble, one of the best inventions of 2019. PureCycle Technologies is commercializing the technology at a plant in Ironton, Ohio. 
Additives advances: Plastics additive provider Brüggemann has released a series of reactive chain modifiers for polyamide. The company's Bruggolen M series adjusts relative viscosities by either lengthening particularly short chains or shortening overly long chains, according to a press release. The additives can eliminate the need to blend recycled resin with prime resin to achieve desired properties. Separately, additive producer Milliken launched the DeltaMax 5000a performance modifier for PP. DeltaMax 5000a increases the impact resistance and melt flow of post-consumer and post-industrial PP to levels on par with virgin plastic, according to Milliken. The company was expecting FDA approval for use of the additive in food-contact application by the end of 2019, according to a press release.
Embracing pyrolysis: Major companies have formed a consortium that will advance the use of pyrolysis on plastic packaging that is difficult to recycle mechanically. "The first-of-a-kind consortium of world-leading players from across the plastic packaging value chain will examine the technical and economic feasibility of recycling complex plastic waste, such as small, flexible and multi-layered food-grade packaging," according to a press release. Involved in the French consortium are French stewardship group Citeo, plastics producer Total, equipment provider Recycling Technologies, and global brand owners Nestlé and Mars. A U.K. company, Recycling Technologies developed what it calls the RT7000 unit, which uses pyrolysis to produce an oil branded Plaxx, which can be used as feedstock for plastics production.
To receive the latest news and analysis about plastics recycling technologies, sign up now for our free monthly Plastics Recycling Update: Technology Edition e-newsletter.