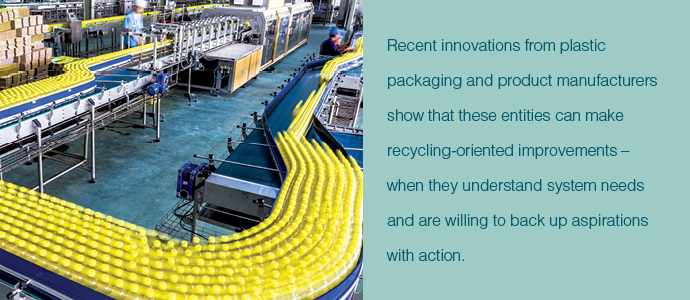 This story originally appeared in the Summer 2019 issue of Plastics Recycling Update. Subscribe today for access to all print content.
In the world of plastics recycling, product manufacturers are regularly framed as adversaries.
So often, conversations among reclaimers, converters and others will turn to the hard-to-recycle packaging seemingly flooding the market or the fact that end users aren't willing to pay premiums for recycled resin.
Such gripes have their merits, of course. But at the same time, amid the frustration, it's easy to lose sight of the critical steps some producers are making (often voluntarily) to bolster the recyclability of their goods and to use more PCR.
Below, we lay out some examples of manufacturers that have recently taken concrete action to help bolster recovery of plastic materials. The case studies can help recycling professionals hold onto hope that they do have support from some manufacturers. They can also be used as helpful talking points when trying to engage other end users on critical issues pertaining to recycling.
A totally tubular project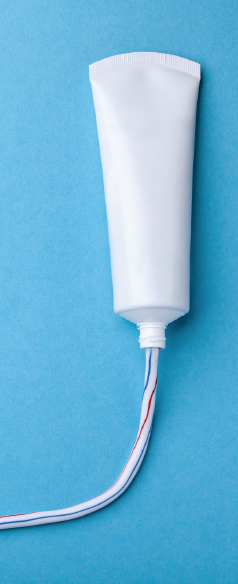 You don't have to look far for an everyday item that recently got some much-needed recyclability help. Just open up the cabinet in your bathroom.
Colgate-Palmolive has developed a toothpaste tube that passed tests for sortability by materials recovery facilities and processability by plastics reclaimers.
The Association of Plastic Recyclers (APR) announced its recognition of the tube at its June 4-6 member meeting in Minneapolis.
Colgate-Palmolive said the tube, the first of its kind, is the product of significant R&D. According to the APR letter confirming the packaging meets APR criteria for recycling alongside HDPE bottles, the "Samson" tube is a pigmented, low-melt-flow HDPE. It has 5% or less EVOH used as a barrier layer, tie layers and a PET insert. The printing is done directly on the tube.
According to the Colgate press release, the tube has been under development for five years.
Most tubes are made of layers of different plastics, often sandwiched around a barrier layer of aluminum. The multi-material composition makes the packaging difficult to recycle.
Colgate-Palmolive engineers in Piscataway, N.J. tested using layers of different grades of HDPE to achieve the needed customer squeezability, product preservation, high-speed production and recyclability properties, according to the press release. They tested using between six and 20 different layers before finding the right "recipe," according to the release.
As part of the recyclability evaluations, Colgate had tests conducted to ensure the tubes could be successfully sorted into HDPE bales at materials recovery facilities (MRFs). "Colgate used radio frequency identification (RFID) tags to track the tubes and prove they would be properly sorted with plastic bottles," according to the company.
The company also underwent testing to ensure a plastics reclaimer could produce saleable resin from it for use in bottles.
Colgate acknowledged more work needs to be done to ensure the tubes actually get recycled on a widespread basis. The company must build awareness and support among MRFs, plastics reclaimers and municipalities that oversee recycling programs about the tube's recyclability.
Colgate noted it is working with research and consulting firm More Recycling and with The Recycling Partnership, which provides recycling money and assistance to governments.
The Samson tube will debut under Colgate-Palmolive's Tom's of Maine brand in the U.S. in 2020. After that, it'll be rolled out to select global markets under the Colgate brand.
This black bottle is sort-friendly
Like tubes, black plastic packaging has long eluded the reach of recyclers. But work by one of the world's largest consumer packaged goods companies is helping to change that.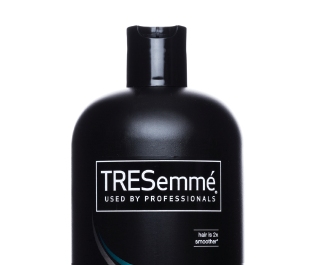 Unilever announced in May it will roll out a black plastic HDPE bottle that near-infrared sorters can identify. In fact, it has already begun transitioning TRESemmé and Lynx (Axe) brand bottles in the U.K. to packaging with the new black pigment. The color allows optical sorters to correctly identify and sort the bottle based on its polymer. (Traditional black colorants absorb light used by many optical sorter sensors, preventing them from "seeing" the plastic.)
TRESemmé detectable black bottles are currently heading to stores and Lynx will follow later in the year, according to a Unilever write-up on its website.
Unilever said it carried out extensive sorting trials in partnership with plastics recycling nonprofit member association RECOUP, garbage and recycling companies Veolia, Viridor and Suez, and sorting equipment technology provider Tomra.
"The knowledge and expertise from developing this solution will be made accessible to others in the industry, as well as to other markets globally," according to Unilever. "We will also be pleased to share our work and the insights generated with other manufacturers to enable wide use of this technology and approach."
Unilever also said the development allows it to use recycled black plastic in its packaging. Both the TRESemmé and Lynx brands will be made with at least 30% recycled plastic starting this year, according to Unilever.
Recycled resin in the receptacle
While some brands are innovating to help their products align better with today's recycling infrastructure, one Canadian company is bolstering plastics recycling through the infrastructure itself.
Garbage and recycling container maker Busch Systems recently announced it has developed additional products made from 100% recycled plastic.
Barrie, Ontario-based Busch Systems has been molding containers with recycled plastic for about a decade. The end user has steadily increased its use of recovered polyolefins over the years and, in mid-April, announced a significant expansion of its containers made with 100% post-consumer polyolefins.
"We are a sustainable-based company, so for us it makes sense to be able to help close the loop," John Lajner, operations manager for Busch Systems, said in an interview. "It's our goal to use [recycled plastic] in everything we manufacture."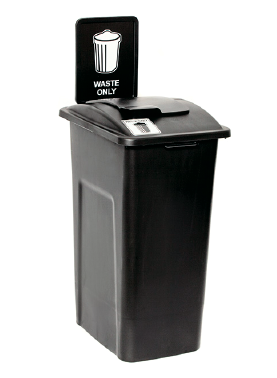 Founded in 1985, Busch Systems manufactures garbage, recyclables and organics collection containers used by businesses, institutions and governments.
Around 2005, the company began buying recycled plastic lumber and using the material in its outdoor public container stations. Several years ago, Busch started using recycled plastic in injection-molded containers at up to 25% recycled content, Lajner said.
A key to growing the percentage since then has been finding consistent suppliers of higher-quality recycled polyolefins, he said. Post-consumer plastic used by Busch Systems for injection-molded containers comes from Ontario's Blue Box program, a curbside collection system that's funded by both municipalities and producers and serves nearly 13 million Canadians.
Sorting and cleaning technology used by reclaimers handling Blue Box material has improved, allowing them to better separate HDPE from PP and remove contaminants such as paper, which can clog injection-molding machines, Lajner said.
By working with a number of suppliers to obtain plastic with better melt flow properties, Busch Systems was able to boost recycled content to 50%. The first 100% recycled container actually came as early as 2014, but it was a very limited production run, Lajner said.
More recently, by purchasing higher-quality plastics from a particular supplier (Lajner wouldn't disclose the company), Busch Systems has produced a number of different products made of 100% post-consumer plastics.
For injection molding, Busch Systems is now taking in at least 44,000 pounds of post-consumer plastic a month, storing it in silos, Lajner said.
However, challenges remain in using post-consumer plastic, including shortages in the variety of colors available. Busch Systems is working to incorporate more post-consumer material into lighter-colored containers, but post-consumer plastic tends to come in gray or dark gray colors, which limits their use to darker-colored containers, Lajner said. To make a yellow receptacle, for example, the company would probably have to use post-industrial plastic.
Odor from post-consumer plastic is also an issue, particularly when containers are used indoors. That being said, additives developed over the past decade or so have allowed reclaimers to improve the smell, including shifting it to a vanilla scent, Lajner said.
There's no cost advantage to using PCR over virgin plastic, Lajner acknowledged. However, according to Busch Systems, its prices for containers didn't change when the company made the transition to post-consumer plastic.
"If there's no commitment on our side as consumers of resin, then we'll never clean up the oceans, we'll never stop the landfills, we'll never do all the right things that we should be working toward," Lajner said. "Unfortunately, sometimes that's not the cheapest way to do things, but, ethically, it's the right way to do things."
Progress on notoriously difficult stream
Biopharmaceutical production scrap consists of different polymers, multi-layer films and some hazardous materials. But a recycling program is demonstrating that this tough-to-tackle stream doesn't have to be destined for disposal.
Global biopharmaceutical products supplier MilliporeSigma has partnered with specialty waste management company Triumvirate Environmental to recycle the commingled single-use plastic scrap into saleable lumber products.
The goal is to make a dent in the roughly 30,000 tons of biopharma single-use products landfilled or burned around the world each year. Since the program's launch in the eastern U.S. in 2015, it has recycled 3,357 tons.
Owned by Germany-based Merck KGaA, MilliporeSigma provides single-use plastic items used to make biopharmaceuticals, which are large-molecule drugs created from living sources and injected into humans. Producing them involves growing cells, extracting components of those cells and purifying the product in multiple steps.
The single-use plastics include bioreactor bags, tubing, filtration systems, chemical containers, gloves, shoe covers and more. In the 2011-12 timeframe, when MilliporeSigma first began working with customers to recycle single-use plastics as part of a pilot project, the material had to be separated before it could be shipped to a reclaimer. In some cases, that meant biopharma company staff had to manually cut up items to separate the different plastics.
The company found a better way in partnering with Triumvirate Environmental, a Somerville, Mass.-based company that provides collection and disposal of dangerous chemicals and bio-hazardous waste.
Through the partnership, MilliporeSigma's customers – drug makers – contract with Triumvirate to have their scrap materials collected. MilliporeSigma pays a yearly fee to Triumvirate to help offset its processing costs, allowing it to keep costs down for MilliporeSigma's customers.
"We do feel like we need to have skin in the game," said Jacqueline Ignacio, global manager of customer sustainability solutions for MilliporeSigma.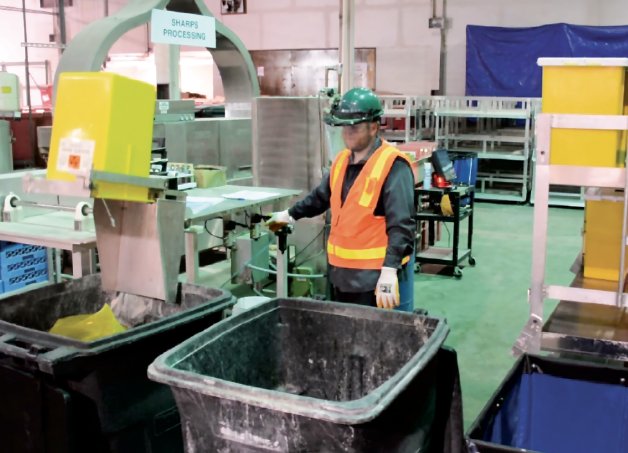 Triumvirate recycles the plastics at its 87,000-square-foot Jeannette, Pa. facility, about 25 miles southeast of downtown Pittsburgh. Because of its footprint and service area, the company is only collecting plastics from biopharmaceutical manufacturers east of the Mississippi River, although its working to provide service to the West Coast in the future, Ignacio said.
MilliporeSigma estimates 30 East Coast biopharmaceutical drug sites generate around 9 million pounds per year of single-use plastics.
The single-use plastics consist of PE, HDPE, LDPE and PP, although the bioreactor bags have multi-material films with a layer of nylon 6. Some of the stream is considered hazardous and some is not, Ignacio explained.
The material that's not considered hazardous heads to the Jeannette facility's Plant No. 2, where it's first shredded, Ignacio explained. Then, ferrous and non-ferrous metals are removed with a magnet and eddy current separator. After that, a float-sink tank is sometimes used, depending on the composition of the feedstock and the desired grade of plastic lumber.
The flakes then move to a dryer regardless of whether they went into the float-sink tank. That because they can have residual moisture from the biopharmaceutical filtering process. Then, the plastic is shredded, sent into an extruder and shredded again. Finally, the material is extrusion-molded into lumber, parking stops, speed bumps and other products. The company uses single-screw extruders. Triumvirate incorporates colorants but declined to provide details on any other additives it uses.
Made without any virgin plastic, Triumvirate's industrial-grade lumber product is sold under the BestPLUS brand.
MilliporeSigma, which serves 66 countries, would like to expand the program to other locations. Challenges remain, however. Triumvirate's technology is difficult to scale and replicate in all locations, Ignacio noted, and lumber buyers will be needed wherever processing systems are installed.
In the meantime, Triumvirate is working to establish a West Coast footprint. A life-cycle assessment showed the transportation costs were high – and the greenhouse gas benefits diminishing – when shipping single-use plastic scrap from West Coast biopharma makers to Pennsylvania for processing.
"Hopefully, in the next year we'll have a way to at least collect and condense the shipments from the West Coast to the east so that it makes more sense from a greenhouse gas footprint – carbon footprint – as well as the transportation costs," Ignacio said.