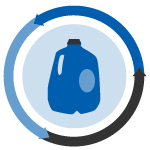 A university investigates how ABS is affected by multiple 3D printing and recycling cycles, and a cross-industry group evaluates the recyclability of barrier film technologies. 
Separating film layers: Consumer goods company Henkel is helping a startup scale up its technology for separating layers in multi-layer flexible packaging. According to Edie.net, the company invested in Separatec, which has a liquid chemical mixture that can separate multi-layer barrier films into PET, PE and aluminum "without disintegrating them." Saparatec has been trialing the technology at a pilot-scale facility in Germany for years, but Henkel's money will help it build a full-scale plant. 
Recycled ABS in 3D printing: Researchers at Deakin University in Australia analyzed how the properties of recycled ABS changed when used in 3D printing. In a paper published in ACS Sustainable Chemistry and Engineering in June 2019, they described how they went through multiple cycles of grinding the plastic, extruding it into filament, printing a part, and then grinding it up again. They found a number of changes in terms of reduced melt flow, increased glass transition temperature, and reduction in strength. But they also discovered that by using a relatively low percentage of recycled ABS mixed with virgin – less than 10% – the plastic retained near-virgin properties. 
EPS densification: A pilot project in southwestern Ontario will explore how densifying EPS at drop-off sites can reduce sorting and shipping costs. According to the Continuous Improvement Fund (CIF), which is working with Second Wind Recycling on the project, clean, dry, bulky packaging PS foam will be accepted at drop-off depots and then densified with a mobile densifier unit before shipping to the recycling plant. EPS' low density and tendency to break apart makes it difficult to handle cost-effectively. "A mobile EPS densifier has the potential to minimize some issues that have kept some municipalities from adding this material to their programs," according to the CIF.
Evaluating film recyclability: The European platform RecyClass recently conducted three evaluations in the recyclability of packaging firms. In one, the cross-industry initiative determined that as long as the amount of EVOH in a PE barrier film is at 5% or less content, it has minor impacts on the recycled plastic. The platform found that above 5%, the EVOH results in yellowing, haze, gels, specks and frequent bubble breakage. In a separate evaluation, RecyClass looked at the recyclability of LLDPE film with VO+ additives, which create a "nano-voided structure" in polymers. The additives minimize material usage by reducing the plastic's density, provide a barrier, lend enhanced mechanical properties and create high opacity without the use of titanium dioxide, according to RecyClass. The group found there are minor recyclability issues when used under certain conditions. Lastly, RecyClass evaluated Constantia Flexibles' EcoLam High Plus, a barrier film that combines PE with a small amount (1.8% of the total structure) of EVOH and aluminum metallization. RecyClass found the film is recyclable when certain conditions are met. 
Delamination research: A Spanish project is developing new recycling methods for recovering polyamide from multi-layer food packaging. According to AIMPLAS, a Spanish plastics technology center, the RECIPAM project will develop a delamination process to remove PA, as well as a compatibilization process to reprocess the plastic with other polymers to obtain compounds of sufficient quality. The goal is to recycle the PA into high-value applications, including food packaging.
To receive the latest news and analysis about plastics recycling technologies, sign up now for our free monthly Plastics Recycling Update: Technology Edition e-newsletter.
More stories about technology