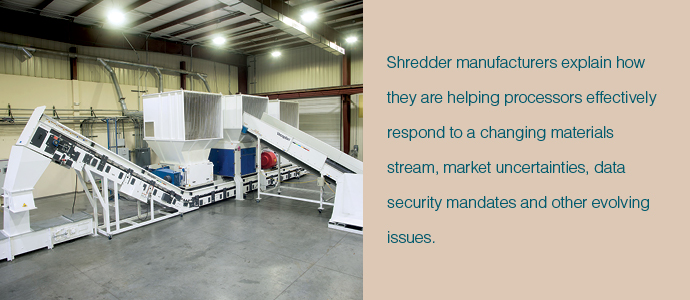 This article originally appeared in the Spring 2019 issue of Plastics Recycling Update. Subscribe today for access to all print content.
Recycling professionals know well how shifts in markets, materials and more have recently forced adjustments and revamped strategies on the part of facility operators.
But materials recovery trends carry ripple effects for stakeholders throughout the sector, including equipment manufacturers. For a particularly compelling look at how machinery makers are evolving with the industry, we can turn a lens toward shredders and other types of size-reduction technology.
Shredders and granulators tend to come at the very front of a recycling line. So they represent operator's first chance to alter the state of material and play into the ways a facility reacts to shifts in the stream. "The shredder is the initial stage of processing," said Sean Abenstein, manager at Gensco Equipment.
Additionally, the basic objective of a shredder is fairly simple: take in something bulky and make it smaller. New sorting innovations are regularly hitting the market, but by looking at the ways a standby piece of equipment is changing, we can gain unique insights into the solutions that are emerging for a range of sector challenges.
Keeping up with what's coming in
Converse with any recycling professional about the top trends in today's marketplace and it won't be long before you're discussing the concept of a shifting material stream.
Across many industries – electronics, packaging, automotive and more – manufacturers are developing techniques and making material choices that save on input and transportation costs. Often, this has included the use of more plastics (some of them highly engineered) as well as some types of material that may present challenges to recyclers.
In response to all that, size-reduction specialists are updating designs to ensure machinery capabilities remain aligned with the material showing up on recycling lines.
"Weima spends most, if not all, of its research dollars toward improving the cutting geometry and drive designs to better handle the variety of new applications that arise daily," said Madison Burt, vice president of sales at Weima America.
Much of the innovation among manufacturers is focused specifically on that ever-evolving plastics stream.
Dana Darley, national sales manager for the plastics division at Vecoplan LLC, noted that two of the company's newest offerings are polymer focused: "our latest V-ECO system, which is designed for low density products, like film and foam, and our VTH 45 and 65 horizontal shredders, which are designed for solid plastic sheets and can size reduce to three-eighths of an inch regrind in one step."
Advancements are also being made to allow operators to adjust shredding equipment and maintain efficiency as the stream fluctuates day to day. SSI Shredding Systems, for instance, recently rolled out its SmartDrive technology that can seamlessly change a shredder's speed when lighter materials are running through the machine and meter items more effectively.
"This allows for material that previously would require a 'brute force' method of processing to be able to be processed in a comparatively smaller system much more efficiently and still maintain maximum production due to a lack of reversals," noted Nathan Wilt, who handles technical sales at SSI.
Other shredder and granulator innovations are aimed at helping facility operators equip themselves for a byproduct of a changing stream: contamination.
Size reduction itself can't get generators to separate materials correctly, of course. But manufacturers say that greater reliability in equipment can allow processors to put more attention on their contamination concerns.
"Equipment longevity and reduced maintenance cost are high on the list [of facility needs] as more mixed bales with high levels of contamination impact operating costs," said David Lefrancois, president of Herbold Meckesheim USA.
Reacting to Asia shakeups
Undoubtedly, the top talking point in materials recovery over the past 18 months has been China's National Sword policy, which has substantially cut the flow of recyclables to the world's largest country. Other Asian nations have instituted restrictions of their own, leaving some North American processors in a lurch when it comes to moving loads downstream.
For many facilities, the strategy to survive and grow in the new world order of markets has centered around upgrading their processing lines. Size reduction is a major part of that formula.
"We have seen major disruptions in the mixed metals and plastics markets," said Wilt of SSI. "A lot of the lower grade material that used to be sold to China now has to be upgraded, and shredders are used heavily for this."
Manufacturers explained that many of their clients see an opportunity in building out systems that will allow them to extend their processing capabilities and create higher-value bales.
"A lot of customers are enquiring about new technology to create a 'furnace ready' material, either for domestic mills or the export market," said Abenstein of Gensco. "They essentially want to start with A and get to C – a full-step process. Of course, the dollar cost is going to be significant when you're looking at trying handle the complete stream."
Operators in some cases are leaning more heavily on size-reduction tools to open the door to higher level sortation farther down the line.
"Better quality separation is required to remove 'undesirables' from the faction in order to ship it to China," said Philip Walls, director of shredder operations at Harris Equipment. "Customers are needing to maintain or even increase density from their shredder to help their current separation equipment be as efficient as it can be."
As facility managers continue to try to effectively respond to today's market turbulence, they would be wise to see their equipment partners as allies. Manufacturers are hearing from operators everywhere and are often seeing firsthand which solutions are working.
"Plan for the worse, know your goals and work with your supplier," advised Lefrancois of Herbold Meckesheim. "Every supplier has a variety of options and the ability to custom design. Communication is the key to get the best machine suited for the application for the best value."
Staying on top of the nuts and bolts
In the equipment realm, proper maintenance is a tip that always gets relayed to operators. But right now, the topic seems to have added urgency, and vendors say technology and other factors are making it easier to keep machines running right.
As noted above, market shifts are causing some facilities to look at buying additional machinery. But in other cases, the plan has been to work smarter with the technology that's already in place. Doing this effectively typically calls for a greater maintenance focus.
"Money is really tight and where in the past [operators] would be quick to trade in old machines for new and better, now they are more likely to try and keep what they have running as long as possible," said Darley of Vecoplan. "Regular maintenance, especially the rotor, and keeping sharp and properly gapped cutters is important. Running with dull and/or improperly set cutters not only reduces output and product quality; it also puts added stress on the shredder."
The good news is that innovation is making maintenance easier.
Some manufacturers are developing components that are designed to be refurbished faster. Others have made the inner components of machines simpler to access or rejiggered their machines' knife setups to make them easier to adjust and clean.
"Easier access means less downtime and [ensures] that companies are more likely to perform regular preventative maintenance," said Burt of Weima America.
Burt also noted his company has moved to help operators on the staffing front by partnering with them to provide regular maintenance services. "Skilled labor is becoming a thing of the past," he said. "This greatly impacts recyclers."
Emerging opportunities
While wholesale industry shifts involving markets and materials are certainly causing consternation for processing facilities, a number of trends are also creating new profit possibilities for operators who utilize shredding equipment.
One important topic is data security. As the variety of products holding personal information expands and as regulators enact new requirements for data protection, materials processors have an opportunity to offer much-needed data destruction services.
"Smaller particle size is really pushing the tech right now, particularly in paper and other media, based on new regulations from government," said Joe Barush, marketing director at Allegheny Shredders. "Data breaches are more prevalent today than they've ever been, so the importance of protecting information is pushing us to smaller and smaller sizes."
He noted Allegheny has been offering a line called Dataslayer that focuses on hard drives and other forms of electronic media, producing a 2 millimeter "dust" shred.
Another valuable use of size reduction technology comes in bale breaking procedures. For loads of plastics and some other materials, the use of a shredder instead of manual labor to open bales can open the door to operational efficiency.
"Because of the higher throughputs required to recover the lower concentration of valuable commodities in this grade of material, having more automation in the processing line … is required to maintain profitability," said Wilt of SSI.
And efficiency opportunities don't stop there. Shredders are also increasingly being used as part of highly integrated processing systems that are able to help processors create more profitable end products.
"Many recyclers do this by incorporating a two-stage system (shredder, granulator, conveyors, air system, and more) that can create clean granulate that is sorted by quality, type and color," said Weima America's Burt. "This granulate is of a higher value and can be reintegrated into processing lines or sold to companies who can do so."
Manufacturers note that as the realities of recycling continue to shift, they will continue to offer products that will let their clients react with confidence.
Noted Harris Equipment's Walls: "The recovery process is being refined for better, more efficient recovery of [materials] and a cleaner product to sell."
Dan Leif is the managing editor of Plastics Recycling Update and can be contacted at [email protected]