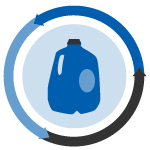 Dow is recognized for a polyurethane foam chemical recycling technology, and a project testing invisible packaging markers to improve optical sorting wraps up. 
Mattress foam recovery: Dow won an award for its technology to break down polyurethane foam from end-of-life mattresses into polyols. Optimized over the past year, the process creates what Dow is branding "RENUVA" polyols. They can be tailored for applications such as flexible foam or rigid foam for construction application. "Replacement of up to 25 percent of the virgin polyol in conventional flexible foam recipes was achieved without deterioration of the foam physical properties," according to a press release. The technology received a sustainability award from Business Intelligence Group. 
New WEEE plastics plant: MBA Polymers has acquired a site in Germany it plans to use for recycling plastics from electronics and appliances. The company on Aug. 18 announced the site in Mauna, near Dresden. Starting in January, the facility will process 17,500 metric tons of waste electrical and electronic equipment (WEEE) each year, producing recycled ABS, HIPS, PP and PC/ABS. This will be MBA Polymers' fifth "recycling facility using its patented process producing a state-of-the-art post-consumer plastic," according to the company. 
Improved WEEE plastics plant: Speaking of plastics from WEEE, Plastics News Europe reports U.K. reclaimer Axion Polymers has boosted capacity for recycling PP and ABS from WEEE and auto scrap. The company added equipment to its Shredder Waste Advanced Processing plant (SWAPP), de-bottlenecking the line and boosting capacity by 30%. The facility recycles plastics from shredded automobiles, appliances and electronics, producing Axpoly brand recycled plastics.  
Watermark and tracer project ends: The Pioneer Project HolyGrail project, which focused on using digital watermarks and tracers to improve optical sorting of post-consumer packaging, has wrapped up and issued its report. Led by Procter & Gamble, project sought to develop a standardized "barcode for recycling" and to speed up its market adoption. Writing about the project's conclusion, Packaging Europe noted that digital watermarks could allow sorting equipment to recognize food from non-food, single-layer from multilayer, and recyclable from compostable packaging. The markers, which are invisible to the human eye, could also help optical sorters identify bottles with full-body shrink sleeve labels, opaque and black packaging, and other materials. Oregon-based company Digimarc, a barcode provider, issued a press release about the company's participation in the project and the potential for its technology.
Compounder building new facility: Sirmax will develop an $18 million facility in the Midwest to produce recycled PE and PP, some of which will be used to make recycled-content compounds. The Italy-based company will build the 130,000-square-foot facility adjacent to its existing compounding facility, in Anderson, Ind. 
To receive the latest news and analysis about plastics recycling technologies, sign up now for our free monthly Plastics Recycling Update: Technology Edition e-newsletter.