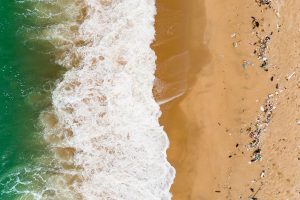 Recycled ocean plastic was recently used to create a small batch of "handplanes," which are tools employed by bodysurfers. The project partners are planning additional, larger production runs.
The project – which was a partnership between a small manufacturer, a plastics recycling company and a nonprofit organization – converted plastic litter from Australian beaches into the products, according to a press release.
WAW Handplanes is a small producer of handplanes, used to aid and control body movements in bodysurfing. The company typically uses wood in its products, but at a Plasticity conference in Sydney, Australia, company owner Rikki Gilbey got the idea to make handplanes from recycled plastic sourced from beach litter.
Gilbey made contact with Repeat Plastics Australia, an Australian plastics recycling firm, and the project began to gain steam.
After hammering out a design that would support using recycled plastic rather than wood, the project leaders had to find a reliable source of marine plastics, which the team noted is "a challenge because most is currently thrown away due to a lack of processing facilities and demand for onward purchase."
The team was connected with Eco Barge Clean Seas, a nonprofit organization that uses volunteer labor and donated equipment to clean up beaches on islands near the Great Barrier Reef. Eco Barge took on the project, noting that "the idea that the plastic collected could finally be recycled and not sent to landfill sat well with their vision," according to the project team.
Eco Barge collectors were given a general specification for plastic that could be used in the project. This included HDPE, LDPE and PP, which were targeted during the collection process and further isolated in the processing stage.
Once collected, the plastics were washed, dried and put through a granulating system. A UV stabilizer was mixed in along with other additives, "to ensure color fastness and the required finish," according to the project team.
The project dealt with a relatively small volume of ocean plastic during the initial production run. To ensure there was enough for each handplane, the team incorporated a mix of two-thirds post-consumer curbside-collected plastic and one-third ocean plastic.
During the initial run, the project produced 1,000 handplanes. Now, the team is gearing up to expand that in subsequent production batches.
"The volumes of material used for this product may not be large, but the interest generated should open up more markets for similar products," the team wrote.
Photo credit: Surapol Usanakul/Shutterstock
More stories about marine debris