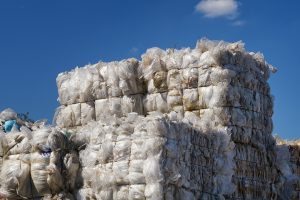 Retailers supplied composite lumber manufacturer Trex with more than 130 million pounds of recovered film last year. Meanwhile, production issues reduced company profits in the first quarter.
With manufacturing plants in Winchester, Va. and Fernley, Nev., Trex recycles film from pallet wrap, post-consumer store drop-off sites and other sources into composite lumber (the company also uses reclaimed wood powder in its formulations).
Trex, which is one of the largest film reclaimers in the country, has been using recovered feedstocks in its products since 1992.
In an April 22 announcement, the company said 32,000 retailers provided Trex with more than 130 million pounds of plastic last year. Overall, the company uses over 500 million pounds of recovered plastic and wood each year in its products.
With an eye toward growth, Trex announced a new name for its collection program: NexTrex.
"With a fresh new name, the company is formally branding the program in an effort to elevate awareness and further expand its reach by engaging even more retailers and collection sites," according to a press release.
Meanwhile, the publicly traded company recently reported its first quarter financial results. Trex reported sales of nearly $180 million, up 8 percent year over year. Net income was nearly $32 million, down 15 percent year over year.
The decrease in profit was primarily related to new product startup costs and slower-than-normal production ramp-up on those products, according to the company's quarterly financial filing. Also, the Fernley production facility had two equipment failures during the quarter that knocked out two production lines for about 30 days each.
On Feb. 20, Plastics Recycling Update reported on the company's full-year 2018 financial results.
Photo credit: Canetti/Shutterstock
More stories about brand owners