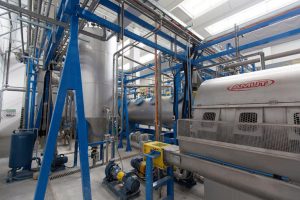 A new recycling line will help produce food-contact RPET from just about the dirtiest source around: bottles picked from landfills.
Equipment supplier Amut has provided a wash line for a new recycling plant at an Indorama Ventures North America facility in Guadalajara, Mexico. The bottles, sourced from landfills, will be the dirtiest bottles on the market.
Indorama Ventures is one of the world's largest virgin plastics producers. It and other global plastics producers have responded to customer pressure to offer more recycled plastics by investing in the recycling industry. Earlier this year, Indorama acquired the Custom Polymers PET recycling plant in Athens, Ala. The company has also partnered with technology startups, among them Loop Industries, a Canadian company commercializing a PET depolymerization technology.
The plant in Guadalajara, the second largest metropolitan area in Mexico after Mexico City, is part of the EcoMex joint venture. Indorama acquired the facility in 2014 by purchasing a 51 percent stake in what was then M&M Polymers, which was already a flake supplier to Indorama.
EcoMex supplies flake to an Indorama resin production facility that's about a 250-mile drive away in Querétaro. That facility uses the feedstock to produce FuTuRe-PET branded resin.
"The cleaned PET flakes will be used to produce new resins for a variety of sustainable products which our clients now demand for their PET packaging products," Yash Awasthi, vice president of Indorama Ventures North American Operations, stated in an Amut press release. "Our goal is to close the loop on recycling and increase the sustainability of the PET containers."
The washing plant will include a de-labeler to remove labels, especially full-body shrink-sleeve labels. The pre-washing and de-labeling occurs in a cold-water process. Then, bottles will enter turbo and friction washer machines, which use a hot water flow. Because of how dirty the bottles are expected to be, the friction was boosted, according to Amut, which is headquartered in northern Italy.
The system will be capable of cleaning 8,800 pounds per hour for the new recycling line, which is scheduled to be operational this fall. EcoMex is also upgrading its existing recycling line with Amut equipment. When the project is finished, EcoMex will be capable of producing over 13,000 pounds per hour of RPET flake.
Photo courtesy of Amut.
To receive the latest news and analysis about plastics recycling technologies, sign up now for our free monthly Plastics Recycling Update: Technology Edition e-newsletter.
More stories about technology