A PET recycling industry group gave its temporary blessing to the use shrink sleeve labels with perforations, which will assist in sorting and recycling.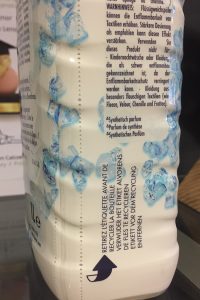 The European PET Bottle Platform (EPBP) gave a three-year approval to the packaging industry to use double perforated full shrink sleeve labels on some PET bottle products. The idea is for consumers to be instructed to remove the labels before dropping both the label and bottle into the recycling bin.
The approval was limited to household and personal care products, not PET beverages, because of concerns that the removed labels could end up as litter when applied to on-the-go products such as drinks.
Full-body shrink sleeve labels can cause a number of problems for the PET recycling industry, although chemical companies and label producers are working to roll out a number of recycling-friendly versions. If they obscure too much of the bottle surface, they can prevent optical sorters from accurately sorting the bottles. And if the labels sink in a float-sink tank, they can gum up and stain PET flakes.
The EPBP's endorsement came with a number of conditions:
The sleeve must have double perforations designed to be easily seen and removed.

The packaging industry must develop standardization in terms of functionality, design and messaging.

The packaging industry must use communications campaigns to inform consumers what to do, and it must provide data on the effectiveness of the consumer engagement.

The PET bottle, itself, must still meet EPBP's recyclability criteria.

The sleeve labels must float in hot water so they can be effectively separated from PET, and they must not bleed inks into the wash water.
"The three-year period will be used to assess the packaging industry commitment in adopting the solution and to measure consumer engagement in removing the sleeves," according to the EPBP endorsement. "This information will inform any decision to make the endorsement permanent."
EPBP is a voluntary industry initiative that provides PET bottle design guidelines, evaluates PET bottles and communicates the effects of new PET bottle innovations on recycling. The group's endorsement was given to Petcore Europe, a trade association that represents the PET value chain.
Petcore Europe issued a press release announcing the approval. The association attributed the proposed recycling solution to its Opaque and Difficult to Recycle PET Packaging (ODR) Working Group, which is chaired by Gian De Belder, principal scientist for sustainable packaging development at Procter & Gamble.
To receive the latest news and analysis about plastics recycling technologies, sign up now for our free monthly Plastics Recycling Update: Technology Edition e-newsletter.