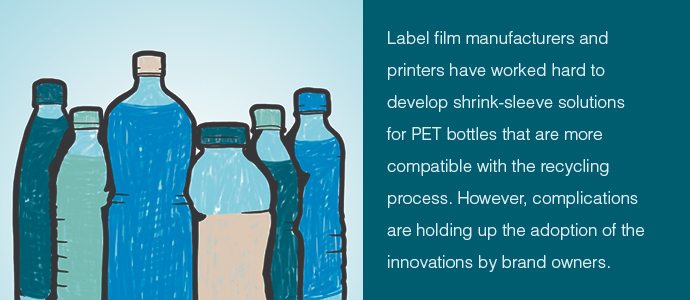 This story originally appeared in the February 2018 issue of Plastics Recycling Update. Subscribe today for access to all print content.
As plastics reclaimers know all too well, bale yields have fallen. One of the culprits in the PET realm is the growth of shrink-sleeve labels, which are capable of muddling the sorting, washing and drying steps.
Shrink-sleeve labels, particularly those covering most of the bottle, can confuse optical sorters, bleed ink into wash water and stain flakes, and cause clumping in dryers.
The good news is label suppliers have some recycling-friendly options up their sleeves, and one major beverage brand, in fact, recently rolled out a bottle using one type of innovation. But delayed adoption of the new technologies has nonetheless left some in the recycling industry feeling frustrated.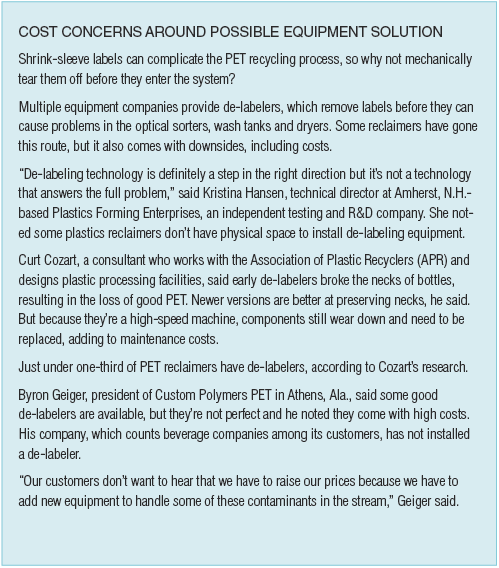 "All of the label innovation that's taken place is tremendously gratifying: resin development, film development, printed label and inks development and testing. And brand companies are evaluating these innovations," said John Standish, technical director for the Association of Plastic Recyclers (APR). "But there's precious little in the marketplace to show for all that work."
So why aren't recycling-friendly labels actually making it onto more bottles? The answer lies in the complexities of brand owner decision-making as well as the wide range of technical realities that define bottle labels and plastics processing today.
Still a growing issue
Full-wrap shrink sleeves cover most of the bottle and have been utilized by product makers across the world to help their items stand out to consumers. In 2016, international labels company UPM Raflatac called shrink sleeves one of the fastest-growing label segments, pointing to its 5.5 percent compound annual growth rate.
But the labels can confuse optical sorters' color/opacity and resin determinations, sending bottles wrapped in shrink sleeves into the wrong stream. Even if the shrink-sleeve bottles do make it into the PET flow as they are supposed to, further complications arise in processing steps from there.
Curt Cozart, a consultant who works for APR and designs systems for plastics reclaimers, explained that in the wet-grind process some reclaimers use at the start of plastics processing, prewash water heats up and further shrinks the sleeve labels, making them thicker to the point that they become roughly equivalent to a water bottle's wall thickness. That inhibits elutriation (a step in which labels and other light-fraction materials are essentially vacuumed off the targeted plastic). This is an important point because Cozart, owner of Montclair, N.J.-based consulting and research firm Common Sense Solutions, has determined a greater percentage of PET is currently processed through wet front-end systems than dry ones (see sidebar below).
Farther down the line, sinking polymers can become an issue. The majority of shrink-sleeve labels currently on the market are made from PETG (glycol-modified PET), with some others made with substrates of PVC or PS. All three of those polymers sink in float-sink tanks, following the PET flakes to the bottom. Some sinking polymers, especially PVC, are inherently incompatible with PET and will mar final product quality.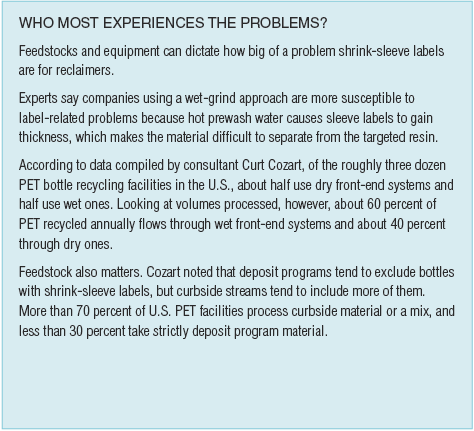 Then there are anxieties about inks. Standish from APR explained that a standard wrap-around label on a soda or water bottle uses a laminate to seal the ink in, preventing it from bleeding. With shrink-sleeve labels, however, the ink is exposed, and those inks have tended to come off, raising concerns they're staining and devaluing recycled PET flakes, Standish said.
Additionally, PETG shrink-sleeve labels can cause problems in the drying stage after PET flake has been washed and separated from contaminants in the float-sink tank. PETG has a lower melting temperature than PET and will cause clumping in the PET flakes if there's too high of a concentration in the mix.
That all explains why shrink sleeves have become a bugaboo for reclaimers.
"We're putting all this cost into the bottle and, at the end of the day, this PETG [label] bottle, if it gets through the whole process … it's causing downgrades of our finished clear material," said Byron Geiger, president of Custom Polymers PET, which is located in Athens, Ala. and is one of the country's largest PET reclaimers, processing 185 million pounds of recovered PET annually.
Shrink-sleeve solutions
To help address the problems caused in processing, the labels industry has begun offering recycling-friendly alternatives, with myriad approaches emerging.
The following companies have received APR recognition for their shrink-sleeve products: American Fuji Seal, Brook and Whittle, Klöckner Pentaplast, Multi-Color Corporation (MCC), Polysack Flexible Packaging, SKC, Sleever International, Taghleef Industries and UPM Raflatac. In addition, Sun Chemical has used APR's Responsible Innovation Program to demonstrate the capability of its deseaming label adhesive that was developed in cooperation with Eastman Chemical.
One of those listed companies, Batavia, Ohio-headquartered MCC, has shrink-sleeve options that include PETG and OPS (oriented polystyrene) substrate labels, typical of what consumers see on shelves today. But the company has also begun offering a variety of recycling-friendly options, which it calls "recycLABEL Shrink."
The company's recycling-friendly labels fall into three categories:
Floatable films: MCC can print on polyolefin films with an ink system that bonds to the film, said Craig Bushman, director of research and development at MCC. Because the polyolefin films are less dense than water, they float in float-sink tanks, separating from the PET flakes. "We have a couple of different options that we are working to commercialize," Bushman said.
Crystallizable PET copolymer films: A collaboration between MCC and Covington, Ga.-based film producer SKC led to a crystallizable PET copolymer film that can be recycled alongside PET, a fact that reduces bale yield loss. The SKC Ecolabel film sinks to the bottom of the tank alongside the PET. MCC developed inks, referred to as DNX53, that completely wash off and particulate, Bushman said.
Deseaming approach: A different option offered by MCC removes the label during the whole-bottle wash step, avoiding complications in the optical sorter, float-sink tank and dryer. MCC collaborated with its suppliers to develop a PETG film that is secured with an adhesive, rather than "welded" with a solvent, as is usually done. In the whole-bottle wash, the glued seam "unzips" and the label falls off.
Geiger of Custom Polymers PET said that after Coke put out the holiday-themed "globe" bottle with a floatable label, his company received 15,000 to 20,000 pounds of the bottles that had been slated for destruction. There were no problems with residual label material ending up in the finished product, Geiger said.
The reclaimer has also run formal trials on both the crystallizable PET copolymer film and deseaming labels. "Both of those technologies, to me, are definitely a big improvement," Geiger said.
Kristina Hansen, technical director at Amherst, N.H.-based testing and R&D company Plastics Forming Enterprises (PFE), sees particular promise in the deseaming technology, which can help prevent problems with optical sorter identification.
"I think that everyone will win if the deseaming technology is used for all labels, whether they're sinking, whether they're floatable, whether they're everything," she said. "The deseaming is definitely a move in the right direction from something that's welded."
Where are the bottlenecks?
With proven options now available, it's natural to wonder why recycling-friendly shrink sleeves haven't been adopted by all major brands.
The delay can be attributed to a confluence of factors, not just product prices. "It's not like the solutions are across-the-board higher for procurement," said Matt Thomas, MCC's business development manager for food and beverage.
The issue can be tied primarily to the fact that brand owners face a number of complex considerations when it comes to label choice, including shelf appeal, production processes, and label-application technologies.
The printing stage serves as a prime example of why it can be challenging for a company to quickly shift to a new, recycling-friendly option. Among the label printing technologies used regularly are gravure, digital and flexographic presses. Those approaches can't always handle all recycling-friendly films and inks. For example, digital printing can be used on the deseaming label but not yet for the floatable options. And in certain cases, meeting APR's ink bleed guidance "may limit your options from a graphic perspective," MCC's Bushman said.
Another fork in the road concerns label application equipment. Two different types of shrink-sleeve films, transverse direction orientation (TD) and machine direction orientation (MD), are used in the industry, and they have different limitations. They're also applied using different processes and equipment.
Further, during product assembly, sleeved bottles are conveyed into hot air or steam tunnels to shrink the labels so they hug the container's contours. But floatable polyolefin films aren't generally capable of the same level of shrinkage as PETG films. Bushman of MCC said some bottles on the market today require labels that shrink by more than 70 percent.
When MCC works with brand owners to "onboard" a new drink container, a lot of time may be needed to work through the analysis with the customer, Bushman said. Because the customer may need to purchase an applicator and shrink tunnel equipment partway through, those decisions must be aligned with the label solution, he said.
Additionally, it can be hard to simply find time to trial new label types on manufacturer production lines.
"Just breaking in and getting line time when our plants are running flat-out, full-capacity, sold-out situations, that's one issue for sure," said Ed Socci, research and development director for beverage packaging at PepsiCo.
Brand owners also face trade-offs with the three categories of recycling-friendly shrink sleeves. For the deseaming label, they can continue to enjoy the high shrinkage ratio of PET film without changing application conditions, Bushman said. The disadvantage has been the bond strength of the label's adhesive. Recent trials have demonstrated good strength, however, and MCC believes the labels are getting to the point where they're ready for introduction in the marketplace, Bushman said.
For the crystallizable PET copolymer label, ink choices would be limited to specific recycling-friendly formulations because the film is designed to be recycled with the PET flakes.
And when it comes to floatable options, some have expressed concern that the labels can inhibit accurate NIR sortation. To combat that issue, Bushman recommends that if brand owners adopt a floatable label, they limit graphics coverage to no more than 80 percent of the bottle.
Meanwhile, UPM Raflatac has reported that its floatable label supports NIR sortation. And Standish said APR recently issued a new NIR sorting test that can be used for bottles with sleeve labels.
A final factor holding back brand owners is fear they'll pick the wrong technology – the Betamax instead of the VHS, so to speak. Stakeholders worry about adopting an approach, only to have APR and the Sustainable Packaging Coalition (SPC) later recommend a different one, Cozart said.
APR's PET Technical Committee recently approved a table providing a menu of the recycling-friendly options. The document, which will be released on APR's website soon, will help accelerate brands' adoptions of recycling-friendly approaches, Cozart said.
"We're getting a lot of push from both the brands and the companies that have these solutions to say, 'Just tell us something,'" Cozart added.
Brands show interest
While the discussion around shrink-sleeve labels and recyclability is full of complication, there is one clear note of positive action in the market: PepsiCo has put a bottle with a recycling-friendly shrink-sleeve label on store shelves, and it's actively working to bring solutions to other items in its product line.
The beverage giant in late 2016 rolled out floatable polyolefin shrink-sleeve labels on some 28-ounce Gatorade products, Socci said. The shrinkage limitations of polyolefin labels haven't been a problem for the Gatorade containers, he said, and the brightness and clarity meet the company's needs. (Some industry members have expressed concern that polyolefin shrink sleeve films have a slight haziness that PETG options don't.)
"It would definitely have an impact if you had some major brands out there that made a large rollout of some of these more recycling-friendly shrink-wrap labels," said one plastics reclaimer. "I think that would put pressure on the rest of the industry."
The floatable labels provide for a kind of fail safe, Socci explained. Even if they get through de-labeling equipment or elutriation, the labels will be separated in float-sinks tanks, employed at most PET recycling facilities.
"You know you have one step in your process that's more or less going to separate that from PET flake," he said.
So what needs to happen to push other companies to follow PepsiCo's lead?
One strategy could be to persuade brand owners when they are launching a new product or bottle type.
"They're going through the qualification process anyway, so you might as well go through the qualification process with an APR-recognized solution," Bushman said, who added that his company sees it as a priority to get recycling-friendly labels on existing shrink-sleeve products in the marketplace, not just on newer product lines.
And stakeholders appear to be working together to develop sufficient brand owner buy-in. MCC has been working with suppliers to validate the converting step for the deseaming labels, Bushman said. MCC representatives also noted the firm is working with two different brand owners that are interested in proceeding with the deseaming labels.
"Brand owners are interested to transition, but work is required," Bushman said. "Like everything, it's a matter of prioritization."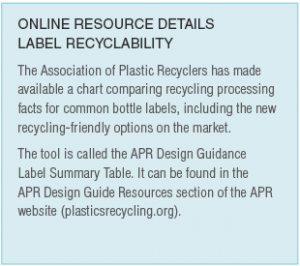 Additional momentum could come as beverage producers are able to successfully implement recycling-oriented changes in other label realms.
Standish noted both The Coca-Cola Co. and PepsiCo have adopted recycling-friendly pressure-sensitive labels. Socci backed that point up, noting that when PepsiCo launched LIFEWTR last year, it provided a perfect opportunity to ensure a completely recyclable package, including a recycling-friendly pressure-sensitive label.
The hope is that such emphasis on recyclability will continue to carry over to shrink-sleeve considerations. And if a few large consumer goods companies do, in fact, adopt the new technologies, others will likely follow.
"I think it would definitely have an impact if you had some major brands out there that made a large rollout of some of these more recycling-friendly shrink-wrap labels," said Geiger of Custom Polymers PET. "I think that would put pressure on the rest of the industry."
Regardless of what brings it about, reclaimers just want change.
At APR's fall meeting in October in Pittsburgh, Standish met with PET recycling leaders to get their thoughts on the various recycling-friendly options.
"The very adamant feedback I got was 'I don't care which one a brand company implements, just pick one and do something different than what we're doing today,'" Standish said. The hope is to move the industry forward and, "over time, we'll see what rises to the top."
Jared Paben is the associate editor of Plastics Recycling Update and can be contacted at [email protected].