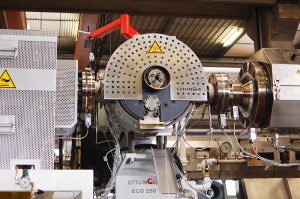 With an eye toward the highest level of recycled plastic purity, Ettlinger has introduced a new model of its ECO melt filter, this time targeting contaminants as small as 60 microns.
Previously, the filter could handle contamination as small as 80 microns. According to the company, the new capabilities will help treat recycled plastic for the film, packaging tape and fiber industries. Plastics processors will be able to more effectively remove paints, silicons, barrier materials and other contaminants from the melt.
"In particular, the new filter screens will enable cost-efficient conversion of post-consumer PET bottle flake and fines, which generally occur in large amounts, into recycled material with excellent usage properties," the company stated in a release.
The ECO melt filter incorporates a rotating, cylindrical steel screen with "millions of conical holes drilled by laser," Ettlinger explained. When the melt flows through the screen, contaminants remain on the surface, and they are continuously removed by a scraper.
The new filter allows companies to more efficiently make use of PET fines from recycled bottles, according to the company.
"These fines occur during the sorting, grinding and washing processes and tend to be contaminated with large amounts of paper and aluminum," the company stated. "Although up to 20 tons of fines per month are generated even in small PET bottle recycling plants, this material is sold at a low price for want of an alternative."
To receive the latest news and analysis about plastics recycling technologies, sign up now for our free monthly Plastics Recycling Update: Technology Edition e-newsletter.
More stories about technology