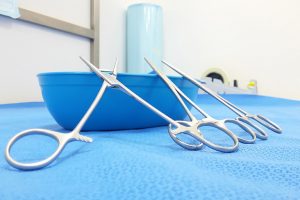 This is just what the doctor (and the plastics reclaimer) ordered: a guide that lays out the value of resins recovered from hospitals.
The Healthcare Plastics Recycling Council (HPRC) in January released its manual for plastics reclaimers, covering common types of noninfectious plastic scrap generated in clinical settings. It also details processing strategies, potential end markets and more.
U.S. hospitals and clinics generate about 1 million tons of clean, noninfectious plastic scrap each year, according to HPRC. "While the potential of this largely untapped waste stream is obvious, how to access this waste stream can be less clear," the group noted.
The following are some of the most common types of scrap plastics from health care settings:
Sterilization wrap (often called blue wrap): This is a nonwoven PP wrap that protects surgical instruments from contamination during and after sterilization. Roughly 255 million pounds are sold to the healthcare industry annually. "It is a non-woven material and processes exceptionally well on densification lines with continuous melt filtration," according to the report. With a MFI of 40, PP compounders use it to raise melt on their lower-MFI feed streams.
Irrigation bottles: These are PP or HDPE bottles, with PP caps, that hold saline solution. Label adhesives are commonly water-based. They're natural in color. They're best processed via grinding, washing and melt filtering to remove paper labels. The HDPE is commonly used in irrigation pipes, trays, slip sheets and railroad ties.
Pitchers, basins and cups: These are typically made from homopolymer PP and are most often white, gray, tan, pink or blue. They are injection grade with an MFI of 12 to 30. "This material can be used as a feedstock for compounders and injection molders for products ranging from parts to bins," the guide states.
Trays: Used to hold instruments for sterilization and distributions, trays are made from PETG or HIPS and are commonly sealed with DuPont's Tyvek-brand HDPE packaging. Extrusion-grade HIPS is commonly white, and once ground it has robust markets, including in horticultural trays and pots, points of purchase displays and sheets, the guide notes. PETG is known for its chemical and heat resistance, impact strength and clarity. "In regrind form, PETG is used in fiber, non-FDA packaging, and chemical recovery of PTA (purified terephthalic acid) and MEG (mono ethylene glycol)," the guide states.
Other flexibles (nonwoven and film): Flexible packaging is found in several areas and runs the gamut from single-layer LDPE films to multi-layered materials made of polyester, nylon and other plastics. To process them, densification and pelletization are required. "When flexible plastics of different densities or materials are combined, compatibilizers may be used to improve product performance, which will increase utilization and value," according to the guide. Paper labels are often present. End markets include lawn edging, pipe, roofing and plastic lumber, according to HPRC.
HPRC last year coordinated a project testing the ability of compatibilizers to boost the quality of recycled multi-material flexible health care packaging.
The guide also touched on contamination and the fear the recyclables will be contaminated with infectious materials, hazardous chemical or medications, or sharps. The largest source of plastic recyclables is operating rooms, and a common approach to minimizing the potential for contamination is to collect them "pre-case," meaning before the patient is brought in, the document noted.
HPRC also stressed the importance of working with hospital representatives – often environmental services staff, or EVS for short – to set up processes to ensure hazardous materials are kept out of the recyclables stream.
HPRC's members are Baxter, BD, Cardinal Health, DuPont, Eastman, Johnson & Johnson, Medtronic, Nelipak, Ravago and Thermo Fisher Scientific.
Photo credit: By Senkumar Alfred/Shutterstock

To receive the latest news and analysis about plastics recycling technologies, sign up now for our free monthly Plastics Recycling Update: Technology Edition e-newsletter.
More stories about challenging materials