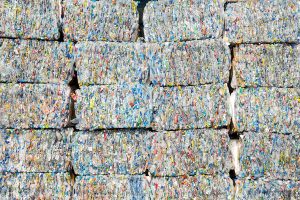 Higher recovered PET prices pinched profits for recycled polyester fiber manufacturer Unifi last fall.
Greensboro, N.C.-based Unifi, which processes post-consumer PET into REPREVE brand polyester fiber, reported $167.7 million in net sales during the second quarter of the 2019 fiscal year (the quarter that ended Dec. 30, 2018). That was roughly flat from the year before.
The company's gross margin was 8.4 percent, down from 13.5 percent during the same quarter the year before. In a press release, company CEO Kevin Hall said rising polyester feedstock prices contributed to the reduction in profitability.
"Polyester raw material costs spiked in September to reach a multi-year high in October, resulting in short-term demand disruption," he said. "While those costs have declined since, gross margins were pressured throughout the second quarter as we worked through the higher-cost inventory. These headwinds were compounded by lower production volumes and a weaker sales mix."
The raw materials costs have since come down, he said. Because of that and other factors, the company still expects solid revenue growth in the second half of the fiscal year.
Last year, Unifi reported that its 2018 fiscal year sales were up but profitability was reduced by higher PET bale prices.
Unifi operates a PET bottle recycling plant in Reidsville, N.C., capable of generating up to 75 million pounds of RPET a year for internal use in fiber and for sale to outside companies.
In other Unifi news, the company recently announced its Champions of Sustainability award winners. Now in their second year, the awards recognized 68 brands, retailers and textile partners using Repreve.
Photo credit: WarutChinsai/Shutterstock
More stories about markets