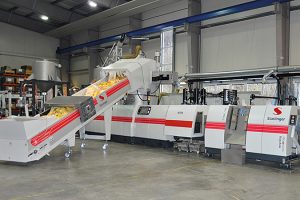 Although the recoSTAR line of plastics processing equipment was already available in six sizes, Starlinger added a seventh to meet yet another application last year.
The equipment manufacturer received a number of requests from the post-consumer film recycling sector, asking for a recoSTAR model that would fit their needs closer than existing options. The film recycling companies described an ideal throughput of about 2,200 pounds per hour, and the closest available sizes achieved either slightly less or more than that volume.
"The launch of the recoSTAR dynamic 145 bridges this gap," Starlinger wrote in a release last month.
The "145" indicates the extruder screw diameter in millimeters, and the latest model sits between the 125 and 165 dynamic models.
Shredded post-consumer film is fed into the line by a feeder that performs a variety of preparatory functions, including cutting and mixing, before the material reaches the extrusion stage.
Customers using the equipment to process heavily printed film can also add a C-VAC degassing unit, which increases the melt surface significantly, easing removal of gases. "This is especially important for film recyclers because ink, humidity and contamination can lead to higher formation of gases during the extrusion process," the company stated.
The output is a regranulate that can be used for the production of new films, according to Starlinger.
Photo courtesy of Starlinger.
To receive the latest news and analysis about plastics recycling technologies, sign up now for our free monthly Plastics Recycling Update: Technology Edition e-newsletter.
More stories about technology