The parent of global retailer IKEA has invested in a pair of European companies developing cutting-edge plastics recycling technologies.
Ingka Group recently bought ownership stakes in Umincorp, a Dutch company pioneering a magnetic density separation technique for sorting mixed plastics, and Next Generation Group, a plastics recycling equipment provider that developed a liquid-state polycondensation PET recycling technology.
Float-suspended-sink separation
Umincorp announced the investment on Dec. 12. A spokesman told Plastics Recycling Update Ingka has become a minority shareholder in the Rotterdam company.
Umincorp has what it calls a magnetic density separation (MDS)-based technology for sorting post-consumer mixed plastics. The equipment essentially employs a tank using specially designed magnets and a water-based ferromagnetic fluid. The combination of the magnets and fluid results in different densities at different depths in the tank, according to the company. Polymers will float to the top, fall to the bottom or are suspended at different depths in between, depending on their densities. Splitters are placed so that plastics of the same density are collected together.
The technology can be used to separate PET, HDPE, PVC, PP, PS, ABS or other polymers. The equipment can sort up to 1.5 metric tons (about 1.7 short tons) per hour, according to Umincorp, achieving up to 99 percent purity.
"We are very keen, supported by the investment from Ingka Group, to make our unique MDS technology available to the plastics recycling market," Jaap Vandehoek, CEO of Umincorp, stated in a press release. "We aim to reach mass circularity of polymers by significantly reducing the cost of recycling and improving the purity of the recycled products."
Umincorp is installing MDS equipment at a joint-venture under development in Amsterdam, according to Recycling International. The line will also include shredding, washing and cutting equipment before and after the MDS system.
Liquid-state polycondensation
Next Generation Recycling Machines (NGR) announced on Nov. 27 that Ingka had purchased a 24 percent stake in the Austrian company.
NGR, which provides a range of equipment for recycling PET, recently released its liquid-state polycondensation (LSP) technology for producing food-grade RPET. In LSP, decontamination and rebuilding of the molecular chain takes place in the liquid phase of the PET recycling process.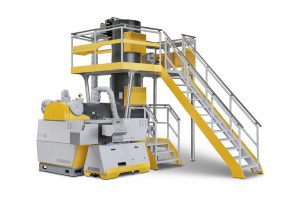 According to NGR, it offers more flexibility in terms of feedstock, allowing reclaimers to mix together and boost the intrinsic viscosity of not just bottle flake but also fiber, sheet, thermoforms, strapping and other lower-value streams. LSP can also be used to process co-polymer forms of PET such as PETG and streams with polyolefin content. NGR demonstrated the equipment during an event at its facility in Feldkirchen, Austria in November.
"Ingka Group with their investment principles, enables Next Generation Group as a technology provider to invest in new technologies supporting the transition from a linear to a circular economy," Josef Hochreiter, CEO of Next Generation Group, stated in a press release. "The shared view on our long-term strategy and philosophy supports us to further grow the company."
This isn't the first time IKEA has supported plastics recycling. In 2017, IKEA acquired a 15 percent stake in Dutch recycling company Morssinkhof Rymoplast, one of the largest plastics reclaimers in Europe. It was described as IKEA's first step in its plan to make investments totaling 1 billion euros in sustainable materials suppliers.
Citing the investment, Morssinkhof Rymoplast moved forward on plans to build a state-of-the-art post-consumer HDPE and PP recycling facility in the Netherlands. That plant is slated to come on-line in April 2019.
Photos courtesy of Umincorp and NGR.
To receive the latest news and analysis about plastics recycling technologies, sign up now for our free monthly Plastics Recycling Update: Technology Edition e-newsletter.
More stories about technology