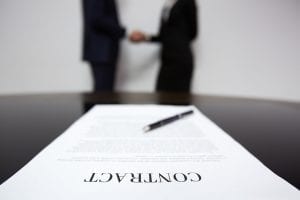 Pyrolysis company Agilyx signed a joint-venture deal with AmSty, a major producer of polystyrene and styrene monomer. Separately, Agilyx entered an agreement to provide feedstock for jet fuel production.
AmSty venture
Agilyx on Nov. 8 announced it signed a letter of intent with Americas Styrenics (AmSty) to form a joint venture that will take over operations at Agilyx's production facility in Tigard, Ore. Agilyx has used the facility to chemically recycle post-consumer PS, breaking it down into a styrene monomer that can be used to make new plastic. The unit can process up to 10 tons per day.
Plastics Recycling Update covered a ribbon-cutting event in April to mark the opening of the PS recycling system in Tigard. At the event, Jon Timbers, senior manager of innovation and sustainability at AmSty, emphasized the importance of technologies such as Agilyx's.
As part of the recently announced deal, Agilyx and AmSty will also work on developing a new PS recycling facility capable of processing 50 tons per day. The site for that unit hasn't been determined, according to the press release.
In August 2017, Agilyx and AmSty signed an offtake agreement to process Agilyx's recovered monomers at AmSty's styrene monomer plant in St. James, La. AmSty calls its process for recycling recovered monomers into new plastic "PolyUsable."
Jet fuel collaboration
Agilyx on Nov. 15 announced that it signed a collaborative agreement with Monroe Energy that will result in Delta Airlines burning jet fuel that started out as a specific mix of scrap plastics Nos. 3-7.
Through the collaboration, Agilyx will supply up to 2,500 barrels per day of its Agilyx Synthetic Crude Oil (ASCO), which is derived from mixed plastics, to Monroe Energy, which is a wholly owned subsidiary of Delta Airlines. Monroe Energy will refine it into jet fuel for use by Delta.
Agilyx plans to site one of its production facilities close to the Monroe Energy refinery, which is near Philadelphia. It will develop in phases until it reaches a production capacity of 2,500 barrels per day by the end of 2020, according to the press release.
"This is a capstone achievement for Agilyx," Joe Vaillancourt, Agilyx's CEO, stated in the release. "We are very excited to be working with Monroe Energy and Delta. As we advance the number and types of products we are able to make from waste plastics, this project marks the first truly commercial-scale facility that will advance the new plastics economy."
Photo credit: Pressmaster/Shutterstock
To receive the latest news and analysis about plastics recycling technologies, sign up now for our free monthly Plastics Recycling Update: Technology Edition e-newsletter.
More stories about technology