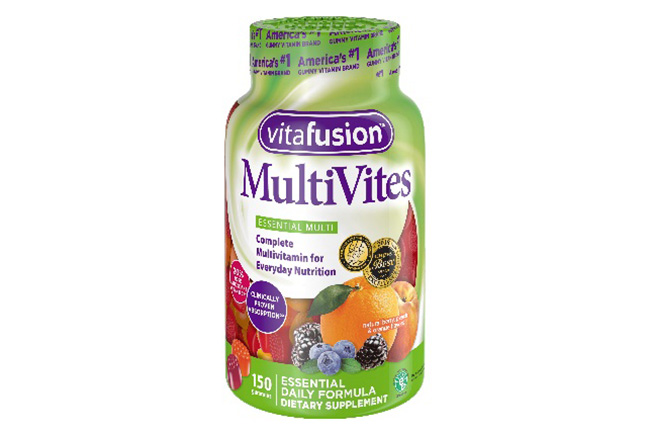 A brand owner has announced it will use a shrink sleeve label that detaches during the bottle wash cycle at plastics recycling facilities.
Church & Dwight will use the recently released shrink sleeve label on its Vitafusion brand of vitamin gummies. The label is a product of a partnership between two chemical companies: Eastman, which provides its Embrace LV copolyester film, and Sun Chemical, which supplies an adhesive that comes off in the wash.
In February, Plastics Recycling Update magazine published an in-depth article on efforts to develop and commercialize recycling-friendly shrink sleeve labels. It discussed the PETG deseaming label, which uses an adhesive that detaches during the bottle wash step, among other technologies. Traditional shrink sleeve labels are essentially welded using a solvent.
Sun Chemical and Eastman announced the launch of the label in February 2018. The SunLam ADHA100 deseaming adhesive on a PETG label received Responsible Innovation Acknowledgement from the Association of Plastic Recyclers in March 2017.
Church & Dwight, a Ewing, N.J.-based brand owner, has already begun converting its Vitafusion  MultiVites 150-count gummy bottles to the recycling-friendly label. The full line will make the conversion in 2019.
The labels will also carry the How2Recycle label.
"Increasing the recyclability of our packaging is a great decision for the long-term success of our business and our environment," Rich McNabb, global director of packaging for Church & Dwight, stated in a press release. "This exciting new technology has huge potential to improve recycling for shrink-labeled packaging across many companies and industries."
To receive the latest news and analysis about plastics recycling technologies, sign up now for our free monthly Plastics Recycling Update: Technology Edition e-newsletter.
More stories about brand owners