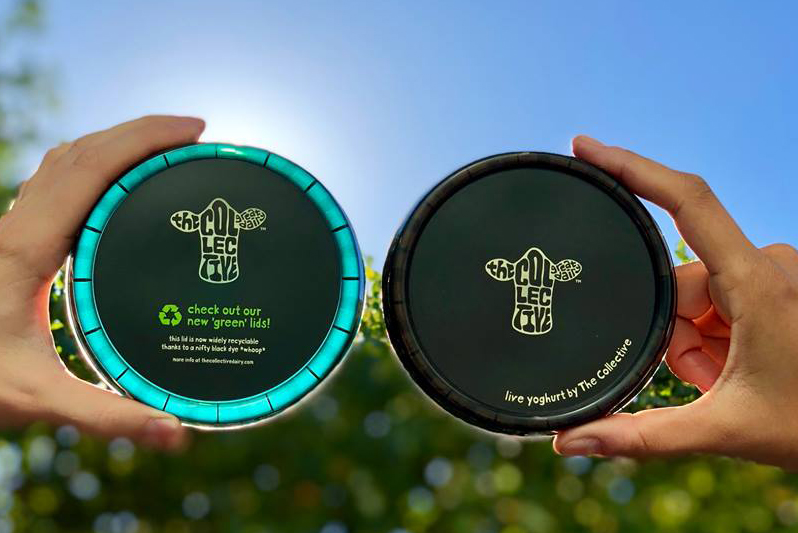 A dairy products company has begun using a black colorant in yogurt tub lids that allows optical sorters to correctly identify the polymer type and color.
U.K. company The Collective began using the black colorant in its 450-gram and 900-gram yogurt tub lids in October, according to British Plastics and Rubber. The colorant is an alternative to carbon black, which absorbs the near-infrared (NIR) spectrum, preventing optical sorters from being able to identify and sort the plastic.
The colorant was developed through trials by U.K. nonprofit group Waste and Resources Action Programme (WRAP). A Colour Tone write-up about the project notes the black colorants that were developed through the project work with the following polymers: APET, CPET, PP, HDPE, PS and PVC.
The trials were conducted by recycling company Nextek, which tested pigments from Colour Tone Masterbatch, BASF and Colour Matrix Group. In the end, those selected for large-scale trials based on their low costs, sortability and tint strength were from Colour Tone and Colour Matrix.
In large-scale sorting trials at Jayplas Plastics, more than 99 percent of the PP and PET trays with the black pigments were correctly sorted.
WRAP also looked at the potential costs to manufacturers of switching from carbon black to the sortable black pigments, based on use in thermoformed food trays. WRAP estimated an additional cost of 70-140 British pounds (about $89-$178) per metric ton of trays, or about 4 cents to 8 cents a pound.
Photo credit: The Collective UK
To receive the latest news and analysis about plastics recycling technologies, sign up now for our free monthly Plastics Recycling Update: Technology Edition e-newsletter.
More stories about technology