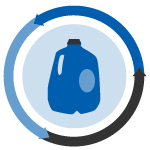 A project seeks to inspire improvements in PA and PU recycling, ocean plastics make their way into surfboards, and a depolymerization startup inks a deal with PepsiCo.
System demonstrations: Equipment supplier Erema reports 130 plastics recycling industry professionals attended its Discovery Day in Ipswich, Mass. in late September. Three Intarema brand recycling systems for different applications were demonstrated: the RegrindPro with ReFresher and Erema Laserfilter (for HDPE bottle recycling), the TVEplus with SW RTF (for EPS), and the TVEplus with Erema laserfilter (for heavily contaminated LLDPE films).
EU tackles PA and PU: A project focused on chemical recycling strategies for PA and PU has kicked off in the European Union. Called "polynSPIRE," the project's goal is to "demonstrate a set of innovative, cost-effective and sustainable solutions, aiming at improving the energy and resource efficiency of plastic recycling processes for post-consumer and post-industrial waste streams containing at least 80 percent of plastic materials." Funded by the European Union, the 9.95 million euro (about $11.3 million) project kicked off Sept. 1 and is scheduled to continue through August 2022.
Ocean plastics recycling: A manufacturer has begun using a nylon from fishing nets in its surfboards, putting marine litter back into the ocean in a productive way. The board maker, called Starboard, is buying what's called the Akulon RePurposed resin from international nutrition products and packaging materials supplier Royal DSM. Akulon Repurposed, which is being used in key structural components of surfboards, comes from fishing nets recovered from the Indian Ocean and Arabian Sea, according to a press release.
Melt filters on display: Ettlinger showcased its filtration technologies at the Fukuma trade show in Germany last month, including a newly released, extra-fine 60 micrometer screen size. The exhibit focused on the company's ECO filter systems, which were originally developed for compounding and filtering out gels and agglomerates but are also very popular with PET reclaimers for removing aluminum, paper, silicone or PVC from bottle regrind.
Recycled HIPS filament: A collaboration between two companies is recycling HIPS from discarded refrigerators into filament used in 3D printing. Recycling International reports that appliance recycling company Coolrec is supplying the interior plastic of fridges to filament maker Refil to produce the off-white filament, ideal for printing models that can be painted. The Dutch companies are also working to recycle black HIPS from TVs into filament, to be available in early 2019.
Recycled plastics testing: U.K. plastics recycling company Axion Polymers installed a new injection molder and other testing equipment, boosting recycled polymer testing and development capabilities. According to a press release, the equipment also includes a Fourier Transform mid-infrared spectrometer for analyzing black and dark-colored polymers, a near-infrared multi-chip spectrometer for fast analysis of large quantities of polymer chips and an X-ray fluorescence analyzer for heavy metals and bromine. Axion Polymers recycled plastics from end-of-life vehicles recycled at Axion Group's nearby facility.
Startup signs off-take deal: Depolymerization technology company Loop Industries has landed an RPET sales deal with one of the world's largest food and drink companies. Loop, which uses a heatless, pressureless process to break down post-consumer PET into its components, signed a multi-year off-take agreement with PepsiCo. The agreement will allow Pepsi to produce 100 percent RPET packaging.
From baby to bottle: Global consumer goods company Procter & Gamble (P&G) has teamed up with an Italian health care group to recycle plastics from dirty diapers. According to Reuters, P&G has partnered with Angelini on the Italian joint venture, called Fater, which is working to find end markets for the plastic and other materials. Fater's plant in Italy, which cleans the incoming feedstock using steam, can extract 150 kilograms of cellulose, 75 kilograms of absorbing material and 75 kilograms of mixed plastic from one ton of diapers, incontinence pads and feminine hygiene products. P&G may begin by using the plastic in bottle caps.
To receive the latest news and analysis about plastics recycling technologies, sign up now for our free monthly Plastics Recycling Update: Technology Edition e-newsletter.