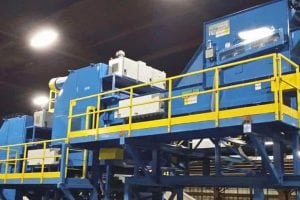 Green Machine has released an optical sorter that incorporates newly patented technology.
The Green Eye Optical Sorting Recycling System provides an automated sorting process that incorporates artificial intelligence, according to its manufacturer. Its learning ability gives it "the flexibility to sort multiple commodities with the ability to evolve with each market challenge in real time," according to Green Machine.
The optical sorter can handle a conveyor operating at up to 900 feet per minute. The optical unit collects three-dimensional information about each item that travels through its field of view. It collects details "down to the molecular level," according to Green Machine.
"This lets the Green Eye system remove or block undesired materials from the air ejector miss-hits," the company says. It can achieve a clean pick rate that operates with at least 95 percent accuracy.
According to its patent, the optical sorter uses a hyperspectral camera that observes infrared and visible light that gives it information about the target material. A single sensor identifies items by composition and color with a higher degree of positive identification.
"In most cases, this optical sorting system removes any need for post sorting," the company stated.
The Green Eye equipment is designed for plastics recovery facilities (PRFs) and other standard residential recyclables processing plants.
The patent was filed for in April 2014 and issued in April 2018.
To receive the latest news and analysis about plastics recycling technologies, sign up now for our free monthly Plastics Recycling Update: Technology Edition e-newsletter.
Photo courtesy of Green Machine.
More stories about technology