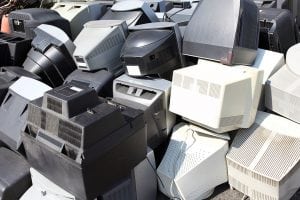 A draft European Union law limits traces of a flame retardant in products to such a low level that it would effectively kill e-plastics recycling on the continent, two industry groups said.
The brominated flame retardant in question is called decabromodiphenyl ether (decaBDE). It has been used in plastics contained in electronics, appliances and vehicles. The European Union (EU) regulates its use in products, including residual levels in recycled plastics.
In March, the European Commission proposed an update to the EU's laws regarding persistent organic pollutants (POPs). In it, the commission, which is the EU's executive branch, proposed setting a limit of 10 parts per million of decaBDE in products, with certain exceptions for aircraft, automobiles and electronics. But the proposal does not include a recycling exemption.
The proposal surprised the European Recycling Industries' Confederation (EuRIC) and the European Electronics Recyclers Association (EERA), which both said the strict limit would end the recycling of plastics from waste electrical and electronic equipment (WEEE) and end-of-life vehicles.
"Producing recycled plastics containing less than 10 mg/kg of decaBDE is not technically feasible at industrial scale, even for the best performing operators with whom EuRIC is working," according to EuRIC's position paper.
Activists focused on protecting people from human-made toxic substances have for years sought a ban on the international level on the use of decaBDE in products. They've taken aim at the recycling of e-plastics containing flame retardants.
Vote draws near
The legislation must be approved by the European Parliament and the Council of Ministers before it can go into effect.
A committee of the European Parliament has been reviewing the draft legislation. According to Tina Ajdič of European consulting firm ADS Insight, the committee will vote on the proposal in October. After that, the full chamber will consider voting on it. The Council of Ministers is also reviewing the bill.
The proposal was first covered in recycling trade media by Recycling International, which reported that the EU wants to bring its regulations in line with the United Nations' Stockholm Convention on Persistent Organic Pollutants. Limits for decaBDE are being discussed under the umbrellas of both the Stockholm Convention and the Basel Convention on the Control of Transboundary Movements of Hazardous Wastes and Their Disposal.
Industry opposition
According to the EERA's statement on the proposal, a small percentage of the overall WEEE plastics stream contains brominated flame retardants such as decaBDE. Some items have high levels, however. For example, the housings of old computer monitors can contain up to 150,000 parts per million of brominated flame retardants, EERA said.
"With modern separation technologies, responsible WEEE plastics recyclers are able to recycle these e-waste materials so that the recycled plastics do not contain more than 1,000 parts per million of these flame retardants," EERA stated. The plastics are sent to incineration facilities.
A limit of 10 parts per million is so low that it's below reliable detection levels in a laboratory setting, let alone an industrial one, according to the group. That means the limit is effectively a ban, EERA said.
The EERA asked the European leaders to allow a 1,000-parts-per-million exception for recycled plastic. Alternatively, they could refrain from putting a limit in the law and wait until international leaders working under the Stockholm and Basel conventions decide what to do, EERA stated.
Activists call for ban
Plastics Recycling Update in June wrote about the results of a study that found brominated flame retardants were being recycled from e-plastics into a variety of new products. A major reason cited was insufficient sorting by plastics reclaimers.
In recent years, activists have called for bans on the recycling of plastics with brominated flame retardants. The International POPs Elimination Network (IPEN), a group of nonprofit organizations, last year released a study showing detectable levels of decaBDE had been recycled from WEEE into toys.
Last year, during a meeting of the Stockholm Convention parties, IPEN successfully lobbied against allowing a recycling exemption for decaBDE. But the parties stopped short of imposing a ban on decaBDE, drawing criticism from IPEN. Instead, they decided to approve a concentration limit in future years. IPEN has urged the EU to support a limit of 10 parts per million for decaBDE at the Stockholm and Basel conventions.
"Governments signaled concern over toxic recycling, but it's time to end a policy that potentially poisons children," Joe DiGangi, IPEN science and technical advisor, stated in a press release at the time. "Recycling materials that contain toxic chemicals contaminates new products, continues exposure and undermines the credibility of recycling."
Photo credit: akiyoko/Shutterstock
To receive the latest news and analysis about plastics recycling technologies, sign up now for our free monthly Plastics Recycling Update: Technology Edition e-newsletter.
More stories about Europe