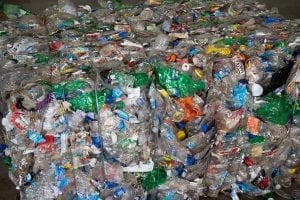 Some beverage brand owners are moving toward 100 percent RPET bottles, but one of the country's largest PET reclaimers says the magic number may be half that amount.
Phoenix Technologies International issued a press release on Sept. 11 stating that a goal of using 50 percent recycled content drives substantial increases in recovery but avoids potential damage to the quality of RPET in future cycles.
Phoenix is a Bowling Green, Ohio reclaimer that produces about 80 million pounds of RPET annually for food and drink packaging and a variety of other markets. It processes about 1 out of every 20 PET bottles collected for recycling in North America. Phoenix is a member of the Plastics Technologies, Inc. (PTI) family of companies. PTI is a research and consulting company that helps brand owners commercialize PET packaging.
"Several major companies have committed to 100 percent reusable, recyclable or compostable packaging by 2025 or earlier," said Ron Ott, president and chief operating officer at Phoenix Technologies, stated in the press release. "With sustainability activities ramping up among many more companies across the globe, it's important to understand how those efforts will be impacted by material availability, and also what the impact of higher recycling content levels will be on future life cycles."
Some brand owners have either rolled out 100 percent RPET bottles or have pledged to do so.
For example, Nestlé Waters North America has begun selling its "resource" brand spring water and its Pure Life purified water in 100 percent recycled containers. Danone announced that its evian brand of bottled water will use 100 percent RPET by 2025. Its containers currently average 25 percent RPET.
Boosting recovery and safeguarding quality
Citing data from the National Association for PET Container Resources (NAPCOR), Phoenix noted that only 1 in 7 post-consumer PET bottles collected for recycling are recycled into new bottles. And according to NAPCOR, less than one-third of all discarded bottles make it into the recycling stream in the first place.
"The current recycling rate would need to triple in order to have enough material to produce 50 percent [RPET] bottles across all product categories," Ott stated. "We encourage everyone to do their part to make sure that number increases, so that there are enough bales to process in order to meet both current and future demand."
When bottles start to approach 100 percent RPET content, yellowing and hazing may occur when those bottles are recycled, according to Phoenix. When 50 percent RPET bottles are introduced into the stream, "we anticipate minimal visual impact on subsequent life cycles," he said.
PTI has conducted research and released white papers on the yellowing of PET during repeated melt cycles and when exposed to ultraviolet radiation. In 2017, Plastics Recycling Update wrote about one PTI white paper that suggested yellowed-tinted RPET might be mixed into an amber-colored PET stream to make beer bottles and pharmaceutical containers. The article noted that additives are available to reduce counteract the yellow tint, but they adds costs and can reduce the plastic's brightness if used at too high of a level.
Photo courtesy of Phoenix Technologies.
To receive the latest news and analysis about plastics recycling technologies, sign up now for our free monthly Plastics Recycling Update: Technology Edition e-newsletter.
More stories about PET