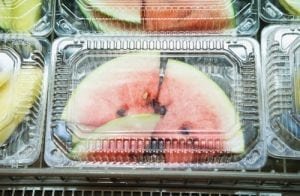 A global flexible and rigid packaging producer aims to manufacture its products using 100 percent recycled or sustainably sourced plastic a decade from now.
Klöckner Pentaplast (KP) on Sept. 10 announced a series of goals as part of its "Positive Plastics Pledge," which also includes efforts to increase packaging recyclability, improve collection infrastructure and educate consumers.
KP's products are used in food and beverage, pharmaceutical and other applications. The Montabaur, Germany-headquartered company operates in 18 countries and has 35 production facilities, including eight locations in the U.S. and Canada.
KP says its plans involve "reducing the weight of its packaging and using up to 100 percent recycled content where possible." KP will "simplify its polymer and material mix to ease recycling," and it will communicate to the public about responsible disposal and recycling, according to the announcement.
Although the pledge marks new concrete goals, KP says the efforts are in line with its current collaboration with businesses and local governments around the world.
KP noted it has been working with a handful of European recycling-related organizations this year, including Petcore Europe, VinylPlus, The Waste and Resources Action Programme (WRAP) and others. KP is one of several companies to be recognized by the Association of Plastic Recyclers for offering recycling-friendly bottle labels.
In August 2016, Plastics Recycling Update magazine featured the company's Montreal recycling facility as the Reclaimer in Focus.
Photo credit: hurricanehank/Shutterstock
More stories about processing