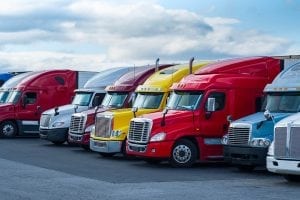 Plastics recycling companies are seeing higher freight costs amid a tight trucking market, and the logistical challenges are predicted to increase in the coming years.
New regulations, driver shortages and rising fuel costs are contributing to the challenging conditions.
"These factors and others have made us work closer with our customers and suppliers to allow more time for pick-ups and deliveries," said Matt Denton, logistics manager for Denton Plastics in Portland, Ore. "It also has forced us to look at other ways of transportation other than over-the-road, like going by rail or doing backhauls with the same truck."
Bill O'Grady, vice president of Talco Plastics in Long Beach, Calif., agreed that lingering pressure in the freight market "continues to plague the recycling industry."
"It remains increasingly difficult to compete outside local markets given the high freight rates governing transportation lanes west to east," he said.
The freight market has been increasingly tight over the past year, and freight experts say the pressure is not over yet.
"We remain at essentially full utilization of seated trucks, and likely will be for most of the rest of the year," Avery Vise, president of trucking research at FTR (Freight Transportation Research), said in a recent market forecast.
In interviews with companies and associations around the country, Plastics Recycling Update learned that recycling facilities are being forced to store material amid shipping delays, and that rural programs are feeling the effects worse than others. Impacts vary by region of the U.S. and sometimes by parts of a state. But across the board, one factor is the same.
"Logistics costs are more expensive than they were a year ago, and dramatically more expensive than they were two years ago," said Joe Jurden of Kansas recycling company Cook Paper Recycling Corporation.
'Perfect storm' converges
Several factors have come together to form what Jurden described as a "perfect storm" that's tightened the market. Fuel prices are rising (up more than 50 cents per gallon for diesel, according to AAA) and fuel surcharges, which are charged by trucking companies to ensure fuel costs are covered, are rising accordingly.
A shortage of drivers has thrown another wrench into the mix. American Trucking Associations last fall predicted there would be a shortage of 50,000 drivers by the end of 2017. But by June 2018, The Washington Post was reporting that there were 63,000 open trucking positions this year, and those open jobs are expected to more than double in the coming years.
Meanwhile, the electronic logging device (ELD) mandate required drivers to be in compliance by December 2017. The federal rule requires commercial truck drivers to use ELDs, which record drivers' hours, a change from the previous standard of logging hours by hand on paper.
As Plastics Recycling Update previously reported, proponents say the regulation will promote safety by effectively enforcing restrictions on the duration of time a trucker can be on the road before resting. Critics say they introduce unnecessary costs, delays and confusion.
Some shipping and receiving companies have a short window of time in which loads must be picked up or dropped off, and the ELD mandate could make those jobs less appealing, explained Keith Mallon of MDX Freight, in an interview with the Iowa Recycling Association.
"If they miss the small window, they lose too much drive-time waiting," Mallon stated.
As such, more flexible shipping schedules can help a company weather the storm, particularly if they allow pick-up or delivery outside normal business hours, Mallon said.
"If a driver can pick up or deliver a load after 5 p.m., or on a Saturday, it's a big advantage," he said.
Rural areas suffer
The effects are very visible in parts of Nebraska, where the state's rural recycling programs rely on long-distance transportation far more than their urban counterparts. Julie Diegel of the Nebraska Recycling Council (NRC) provided Plastics Recycling Update with information gathered from council members.
In western Nebraska, one program operator put it bluntly. Pamela Pacheco of ABC Recycling noted that although her program operates in a city near a major freeway, "Nebraska is Timbuktu" when it comes to markets. Her company is seeing increased transportation costs and penalties for not loading on time. The combination of these effects with other current industry trends, such as additional restrictions from mills, have caused "a cash-flow pinch" for ABC.
"We've had to become more flexible and rearrange loading schedules to accommodate the pick-up …" – Vincent Colvis, Mt. Diablo Resource Recovery Park
The Laurel Regional Recycling Center, which operates a processing facility in northeast Nebraska, recently waited two and a half months for a truck to pick up a load of materials. The company collects, consolidates, processes and markets material for a number of rural communities.
Although the program has its own semi-truck, some customers won't accept material delivered directly by the recycling center. That leaves the program reliant on unpredictable freight wait times, recycling center owner Lathan Asbra reported. The center has begun scheduling freight before it has a full load of material as a way to get a jump start on the wait time. But that opens up the risk of the truck arriving before the load is full, leaving the buyer without a full order.
Freight pressure is a daily struggle in Alliance, Neb., located in the northwest portion of the state. According to Keep Alliance Beautiful, a Keep America Beautiful affiliate, the group's trucking provider recently relocated an hour farther away and raised its prices just "enough to push it out of an affordable range."
"It's a headbanger day after day," according to the group.
Impacts vary by region
Still, in other parts of Nebraska, the effects are more muted. In north-central Nebraska, Custer County Recycling has reported delays of one or two weeks longer than normal. Mid-America Recycling in Lincoln had trouble recently due to the driver shortage but now reports no freight disruptions. And in the rural south-central portion of the state, Mid-Nebraska Recycling reported high freight prices but said the downturn in commodity prices has had a much stronger impact.
In the Pacific Northwest, Denton Plastics has seen an uptick in truck delays for a number of reasons. Matt Denton said company has to "respond on a case-by-case basis, almost daily."
"This is where having good relationships with truckers is so important," Denton said. "Building trust and not splitting nickels is important not just to us, but to the haulers. They know they can rely on us for the loads and get paid quickly."
One recycling company in the San Francisco Bay Area is feeling the freight market impacts on outbound loads almost every week. The Mt. Diablo Resource Recovery Park (MDRRP) in Pittsburg, Calif. has seen trucks arriving late, forcing the company to store material longer than usual.
"We've had to become more flexible and rearrange loading schedules to accommodate the pick-up, along with arranging inspections for National Sword," said Vincent Colvis of MDRRP, in comments provided by the California Refuse Recycling Council (China recently tightened its pre-shipment inspection requirements for recyclables.)
Colvis noted that strict environmental goals in the Bay Area have further tightened shipping availability because trucking companies have been required to upgrade their fleets or close down.
"In terms of costs of doing business, for our guys, the biggest concerns right now are the costs and difficulties as associated with transportation." – Joe Pickard, ISRI chief economist
Kris Kaar, president of the Illinois Recycling Association, said recycling operations in that state are generally not reporting negative impacts from the trucking pressure. Costs have risen – one member reported "substantial" increases – but that's been factored into shipping costs and contracts.
"They recognize that all this is out there, but in general I haven't gotten any feedback from anybody that they are adversely affected by these changes," she said.
Cross-sector implications
The freight conditions have rippled across the wider recycling industry, hitting any company with transportation and logistics requirements.
The Institute of Scrap Recycling Industries (ISRI), which represents recycling companies handling a variety of different materials, said it's been "a real challenge" to secure transportation amid a shortage in trucking supply.
"In terms of costs of doing business, for our guys, the biggest concerns right now are the costs and difficulties as associated with transportation," said Joe Pickard, chief economist and director of commodities at ISRI. "That's a really big issue, both in terms of trucking and rail."
The electronics recycling sector has been impacted significantly. ERI, which is among the largest e-scrap companies in the U.S., is currently seeing freight rates that are 40 percent higher than they were a year ago. Kevin Dillon, co-founder of ERI, noted the e-scrap sector relies on transportation in several key areas: device collection, transportation to processing facilities, and shipping out as commodities and refurbished devices.
Electronics recycling company URT Solutions took action after noticing fewer available lanes and rising costs. The company began expanding its internal fleet, but that comes at a price.
"Unfortunately, like the falling commodity pricing, we have been forced to pass the increased freight costs on to our customers," said Jeff Gloyd, vice president of sales and marketing for URT Solutions.
Photo credit: Doubletree Studio/Shutterstock
More stories about markets