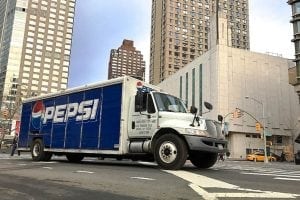 PepsiCo has scaled up its commitment to The Recycling Partnership, and a leader at the beverage company says the money will be geared toward improving local programs.
The beverage giant announced today it will provide the nonprofit recycling group with $10 million, which will be allocated at $2 million per year over five years, according to PepsiCo. It will be spent in two areas: increasing access to recycling and improving recycling programs through education.
The Recycling Partnership works to leverage corporate dollars to bolster the municipal recycling infrastructure. Much of its work to date has focused on bringing curbside carts to collection programs across America.
PepsiCo and The Recycling Partnership are hoping the new effort, titled All In On Recycling, will bring in other companies to raise $25 million total. With that full amount, the initiative would help roughly 2,800 communities around the country, and it would generate 1.9 million tons of recyclables during the next five years, a press release stated. That includes an estimated 7 billion bottles and cans. According to PepsiCo, the communities that participate in the initiative would bring an estimated additional $75 million in municipal funding.
Initial funding will go toward recycling efforts in the Central Ohio region; El Paso, Texas; Miami and the state of Michigan, according to the release.
PepsiCo is already a financial backer of The Recycling Partnership. Tim Carey, senior director of sustainability at PepsiCo, explained the company's decision to expand its investment in an email interview with Resource Recycling.
"We've been working with The Recycling Partnership for the past few years and have been very impressed by their ability to work closely with municipalities, engage consumers, and implement programs that increase recycling rates," Carey said. "The only thing they have lacked is enough investment to meet all of the pent up demand from communities around the nation."
PepsiCo in August 2017 joined The Recycling Partnership with a $100,000 annual membership. The newly pledged funds aim to "accelerate progress and ensure that communities have the tools and equipment they need to change the game locally," Carey said.
PepsiCo sees the financial support as a component of its holistic approach to recycling, Carey said. The approach includes pushing for more sustainable packaging and supporting circular economy principles in order to recover recyclable materials at end-of-life.
"Better infrastructure, increased recycling rates, and higher quality recycled materials will allow us to incorporate higher percentages of recycled content in our product packaging – something we're very eager to do," Carey said.
Keefe Harrison, CEO of The Recycling Partnership, said the funds will be used on cart grants and outreach projects, similar to the outreach work the group has supported in Chicago and Massachusetts.
She added that The Recycling Partnership and PepsiCo are looking to bring in more companies and organizations from across the supply chain to hit a $25 million goal.
"There's a clear call for companies to come together for a joint solution," Harrison said. "As we say, we're all in this bin together."
The Recycling Partnership currently receives funding from 40 companies and organizations.
Communities can apply for funds by responding to requests for proposals issued by the nonprofit organization. The group also proactively seeks out and identifies municipal programs that it feels could benefit from assistance.
Advocacy group As You Sow quickly responded to the announcement with skepticism. The organization referenced a previous PepsiCo pledge to increase the U.S. beverage container recycling rate to 50 percent by 2018, and noted that the national rate is still well below that figure. As You Sow also claimed that even if the initiative were to divert an additional 7 billion bottles and cans in the coming five years, the resulting diversion rate would still lag behind the original 50 percent goal.
"We are pleased that PepsiCo Foundation made a new commitment of $10 million of seed funding toward a $100 million goal to increase recycling," said Conrad MacKerron, senior vice president of As You Sow, in a release. "Though a $100 million commitment seems like a lot, it is less than what's needed to substantially move the needle."
Photo credit: Roman Tiraspolsky/Shutterstock

More stories about brand owners