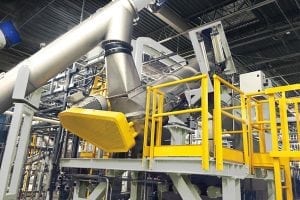 After paper recycling companies extract fiber from cartons, they're often left with a plastic-aluminum mix that's sent to disposal. An Italian company has begun recycling that mix into pellets.
Startup Ecoplasteam, based in northern Italy, has partnered with nearby recycling equipment company AMUT to develop a mechanical recycling system for polylaminated materials. Rather than attempting to separate the ultra-thin layers of aluminum and polyolefin film, the system processes them together into pellet form.
Aluminum is used in cartons as a barrier layer to prevent oxidation and light damage, giving foods extended shelf life at room temperature. According to carton maker TetraPak, the company's aseptic cartons use a layer of aluminum eight times thinner than a human hair.
AMUT issued a press release about the recycling technology in late June. In a follow-up interview with Plastics Recycling Update, Anthony Georges, president of AMUT North America, provided more details on the technology and end product.
At its production facility in Spinetta Marengo, Italy, Ecoplasteam takes in feedstock from multiple sources, including paper mills that have already recovered cellulose from cartons and generally send the leftover mix of aluminum and PE residue to disposal.
"We're seeing that there's a lot of opportunities to divert a lot of waste away from the landfills now," Georges said.
Recycling process
Novara, Italy-based AMUT supplied a polyolefin washing line and extrusion system. It's capable of processing 4,000 kilograms (roughly 8,800 pounds) per hour, but the Ecoplasteam system is running at about 2,200 pounds per hour due to still-limited feedstock availability, Georges said. The system is basically AMUT's standard designs with some special designs on the extruder screws and barrels, he added.
AMUT started installation in summer 2017, and the system was fully operational earlier this year, Georges said.
Ecoplasteam licenses the production process technology from a Swiss company called REPLAN Global (REPLAN stands for Recycling Planet). According to Ecoplasteam, the process involves a thorough washing to remove residual cellulose. The product is then shredded, reducing the aluminum to about one square millimeter and allowing it to be mixed in the final recipe at various levels. The material is then agglomerated to homogenize it. Finally, the melt cycle ensures optimal mixing of the different "recipe" ingredients, depending on the end use.
First published in 2013, a patent from REPLAN Global describes the process for recycling multi-layer TetraPak cartons. According to the description, the feedstock arriving from paper mills contains about 40 percent water, 30 percent cellulose, 15 percent PE and 15 percent aluminum. A float-sink tank and then a centrifuge are used to remove heavy contaminants, water and cellulose, before the remaining material is milled and dried.
The result is a material made up of roughly 49 percent PE, 49 percent aluminum, 1 percent water and 1 percent cellulose, according to REPLAN Global's patent. The plastic and aluminum can then be melted and extruded into pellets.
The patent description explains that details of the process and equipment may vary widely, but the principle of the invention is the same.
End-use applications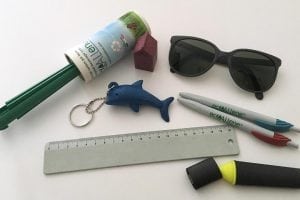 The final product, an aluminum-filled LDPE, currently has a couple of names, according to Georges: POAL, which stands for polyolefin-aluminum, and "Ecoallene." Georges said the plastic-metal composite has been injection molded by a manufacture into new products, which have a sparkle from the aluminum content. According to the press release, POAL can be used in the automotive, building, giftware and general tools markets. Georges suggested it could replace some higher-molecular-weight virgin resin.
"What we're seeing is the durability of of it is very good, and also the flexibility," Georges said. "Because of the aluminum, you have impact resistance already built into it as well."
REPLAN Global has technical information on three different formulations of Ecoallene on its website.
Georges said he sees potential to replicate the recycling technology with multilayer packaging without metal.
"We think with this technology the next step is to develop a useful multilayer pellet from other packaging streams, such as the pouches we're seeing out in the marketplace that have the same type of oxygen barrier materials," he said.
More stories about challenging materials