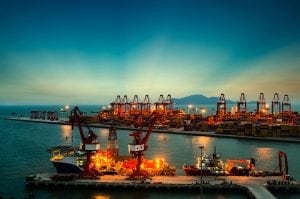 The Chinese government has announced key policies in recent weeks, including a plan to ban all recovered material imports by 2020.
The following is a roundup of the latest details from the Chinese government and other key stakeholders on China's fast-evolving scrap import restrictions.
Total ban on the way: The Chinese government released a lengthy policy document identifying steps the country will take for environmental improvement in the coming years. The policy indicates China intends to completely ban all imports of recovered materials by 2020, according to an online translation of the document, which is available only in Chinese. This will be accompanied by boosting domestic collection and processing of Chinese-generated waste, the policy states.
China quantifies import reduction: According to China's Ministry of Ecology and Environment, there was a 57 percent decline in scrap material imports during the first quarter of 2018 compared with the same period in 2017.
Plastic imports remain down: China's scrap plastic imports remain extremely low, according to China's General Administration of Customs (GAC). Official figures claim China has imported fewer than 20,000 metric tons of scrap plastic this year. However, U.S. export figures state the U.S. alone has sent nearly 22,000 metric tons of scrap plastic to China this year.
Differentiating companies: Southeast Asian countries, most recently Thailand, are enacting restrictions or outright bans on scrap material imports. The countries have seen a drastic increase in the amount of material coming in this year due to China's restrictions. But according to one expert, new Southeast Asian restrictions have been enacted not only because of the volume increase, but because of violations among recycling companies that recently set up shop.
"I think for Chinese recyclers, you have to distinguish between the local ones that were already in (Southeast Asia) for years, compared with the ones that newly arrived due to the National Sword," said Steve Wong, chairman of Hong Kong plastics recycling company Fukutomi. Most of the Chinese companies that recently arrived from China due to the ban "are not complying with the regulators," Wong added.
He stated the U.S. exporters sending material are not at fault, and that the importers using permits illegally are responsible for the new restrictions bubbling up in Southeast Asia.
Authorized receiving ports list: China's customs department on June 27 announced it will restrict scrap material imports to a specified list of receiving ports. The restriction is set to take effect Jan. 1, 2019. According to an online translation of the document, more than two dozen ports will be authorized to bring in recyclables.
Backlogs from increased scrutiny: Robin Wiener, president of the Institute of Scrap Recycling Industries (ISRI), touched on a number of other important points during a China-focused webinar in late June.
For example, she noted the Chinese government is now exerting more direct control over inspections and imports. It is requiring China Certification and Inspection Group (CCIC) North America to conduct in-person inspections for all scrap cargo leaving U.S. and Mexican ports for China. CCIC's approval is required for all scrap exports to China. Wiener noted there are only about 50 inspectors available across the country.
Wiener also said China moved its former General Administration of Quality Supervision, Inspection and Quarantine (AQSIQ) into the General Administration of Customs. And ISRI has heard rumors that customs leaders in Beijing are making its presence known at ports throughout the country, instead of relying on local inspectors.
Wiener referenced reports that officers at Chinese ports are unloading every container to inspect its cargo. "That's also causing further backlogs," she said.
Inspection allegation: New pre-shipment inspection requirements are taking hold in the U.S., and the agency responsible has been accused of overcharging clients for travel expenses. Under the new guidelines, China Certification and Inspection Group (CCIC) North America must be on-site at the exporting facility to inspect all loads of scrap material that are bound for China. ISRI recently said it had heard complaints that "inspectors may be collecting travel reimbursements for the same travel from multiple companies in the same region." CCIC did not return requests for comment.
Trade war stifles talks: Wiener noted that the trade war between the U.S. and China has made ISRI's communications with the Chinese government more difficult.
"I'm in China relatively frequently, and certainly in our last visit, which was the end of April, we didn't get into any government offices," she said. She attributed that to two reasons: Tension between the countries and the ongoing restructuring taking place in the Chinese government.
Photo credit: fuyu liu/Shutterstock
More stories about Asia