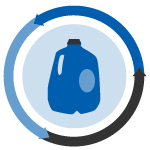 A huge brand owner gets involved with a project using microwaves to break down PET scrap, and an OEM begins using recycled PC/ABS and carbon fiber in electronics.
Advanced nylon recycling: In June, when celebrities walked around the Council of Fashion Designers of America (CFDA) Fashion Awards, they walked on nylon carpet that had previously been depolymerized as part of an advanced recycling process. The carpet was made from ECONYL nylon fiber, a brand supplied by Italian company Aquafil. Plastics Recycling Update: Technology Edition last fall wrote about the company's technology. Carpet from the awards will be recycled at the company's new plant in Phoenix.
Microwave-assisted recycling: The Coca-Cola Company joined an advisory board for a European project focused on using microwaves to depolymerize PET. The global beverage giant and one of the world's largest PET users joined the Industrial Advisory Board for Depolymerization by Microwave Technology (DEMETO). Plastics Recycling Update wrote about the new project in December.
Recycled-content auto plastics: By 2025, Volvo Cars wants at least 25 percent recycled content in all the plastic in each new vehicle it produces, the automaker announced. It's currently at about 5 percent, Reuters reported. Volvo also released a specially built version of its XC60 T8 plug-in hybrid SUV that has the console between the passenger and driver seats made from recycled fishing nets and carpet and seats made from recycled PET bottles.
PET challenges explored: The latest newsletter from PET industry group Petcore Europe recaps recent meetings that focused on recycling challenging PET items. On March 28, a working group on opaque and difficult-to-recycle PET met in Brussels, and one of the main topics of discussion was full-body shrink sleeve labels. Participants discussed recycling solutions, including perforations, consumer information and non-bleeding inks. And on May 15, the themoforms working group met and discussed the recyclability advantages of mono-material trays versus multi-material ones.
Recycled-content e-plastics: During the 2018 fiscal year, Dell began using recycled PC/ABS from electronics in an EMC data storage product, according to the company's latest 2020 Legacy of Good update. The electronics manufacturer has also begun using reclaimed carbon fiber from the aerospace industry in certain laptop designs. Dell's goal is to use 100 million pounds of recycled-content plastic and other sustainable materials by 2020. Since, 2013, it has used 73 million pounds.
Plastic pathways: Plastics News Europe writes that multiple regions in The Netherland will begin testing the use of recycled-plastic roads starting later this year. The PlasticRoad project will involve installing prefabricated plastic bike paths and testing their performance. The paths have what are essentially built-in conduits for the laying of underground cables and pipes.
To receive the latest news and analysis about plastics recycling technologies, sign up now for our free monthly Plastics Recycling Update: Technology Edition e-newsletter.