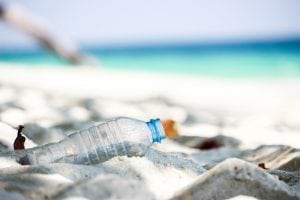 Many groups and organizations made announcements for World Oceans Day, which was observed Friday, June 8. The following is a roundup of some of the key details that have come out of statements and reports in the runup to the celebration.
G7 charter addresses plastics: Leaders of the Group of 7 countries met in Canada last week, and ocean plastics pollution was among their topics of discussion. Five countries in the group (Canada, France, Germany, Italy and the U.K.) signed an Ocean Plastics Charter, pledging to "move toward a more resource-efficient and sustainable approach to the management of plastics."
The countries pledged support for a range of actions, such as policy measures, incentives or requirements for product stewardship, design for recyclability and recycled content. The charter also includes a number of specific goals with target dates, including:
100 percent reusable, recyclable or recoverable plastics by 2030

50 percent recycled content in plastic products by 2030

55 percent recycling and reuse of all plastic packaging by 2030

100 percent recovery of all plastics by 2040
Leaders from the U.S. and Japan declined to sign the charter.
Responses to the charter were predictably mixed. The American Chemistry Council responded referencing its own recent recycling-related goals, which set similar targets. The industry group said it looks forward to "collaborating on a range of activities outlined in the Charter – including sustainable design, research, information sharing, and creative new ideas like the Plastics Innovation Challenge – in the months and years ahead."
Greenpeace was less enthused, describing the ocean plastics charter as one of several "tepid" environmental plans announced by the G7. "Governments must move beyond voluntary agreements to legislate binding reduction targets and bans on single-use plastics," the group said in a release, adding that governments should "hold corporations accountable for the problem they have created."
Island bans plastic: Lawmakers in the Galapagos Islands have approved a phased-in ban on many single-use plastic products. The prohibition, approved in April by the Galapagos Governing Council, bans the following items on the following dates this year:
Plastic straws beginning May 22

Single-use plastic bags beginning June 21

Polyethylene takeout containers beginning July 21

Non-deposit beverage containers starting August 21
A company that hosts trips to the Galapagos released a statement in support of the ban, describing it as a measure to "protect marine and wildlife and their habitats from the detrimental effects of plastic waste."
Companies take voluntary action: Three major companies recently stopped or announced they will stop providing plastic straws and bags on their premises. SeaWorld said on June 7 that all of its 12 theme parks have stopped providing single-use plastic straws and bags, according to The Washington Post. On the same day, Royal Caribbean International announced its fleet of 50 cruise ships will stop providing plastic straws beginning next year, instead offering a paper straw. Ikea, meanwhile, recently announced it will stop handing out bags and straws by 2020.
Tackling ocean pollution before it arrives: Envision Plastics announced it is on track to meet its goal of processing 10 million pounds of post-consumer HDPE that would otherwise have entered waterways. The goal was announced in 2017 and slated to be met over two years. Currently, Envision says it is at the halfway point of its project timeline and the company has recycled 5 million pounds. The program collects material from areas without strong solid waste management programs, including Haiti and remote, coastal regions in Mexico, according to the announcement.
Building credit: American Express cardholders will soon have the option of using a credit card made with marine plastics. The company is working with Parley for the Oceans, a group focused on marine plastic prevention, to provide the cards. They're expected to be widely available within 12 months.
Restating commitments: Procter & Gamble took the opportunity to reinforce the company's commitments to increasing recyclability and collection. The company noted its Ambition 2030 initiative, launched last summer, that aims to make 100 percent of the company's packaging recyclable or reusable by 2030 and to ensure none of the company's packaging enters oceans by that year.
Photo credit: GUNDAM Ai/Shutterstock
More stories about challenging materials