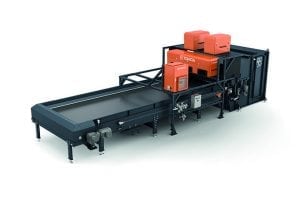 If PET is PET is PET to a standard optical sorter, Tomra's new Sharp Eye technology isn't standard.
The company has released optical sorter technology that differentiates between single-layer PET thermoforms and PET beverage containers.
"This enhances the previous capability of Tomra's Autosort machine to separate multilayer trays," according to a company press release. "This breakthrough is commercially significant because small but critical differences in the chemical properties of PET food trays and PET bottles mean that they must be separated for equivalent-product recycling."
According to the company, a couple of advancements allows for the improved recognition abilities. The Sharp Eye technology introduces a larger lens for higher light intensity. Also key is the company's Flying Beam technology, a near-infrared scanning system with point-scanning. Together, they allow the sorter to distinguish subtle molecular differences in material.
"Tomra Sharp Eye technology allows our customers to achieve higher and more consistent quality for new plastic food-grade packaging," Carlos Manchado Atienza, Tomra Sorting Recycling regional director Americas, stated in the release. "Thanks to our new technology, we can recognize molecular properties and differentiate between monolayer and multilayer trays from bottles."
To receive the latest news and analysis about plastics recycling technologies, sign up now for our free monthly Plastics Recycling Update: Technology Edition e-newsletter.
More stories about technology