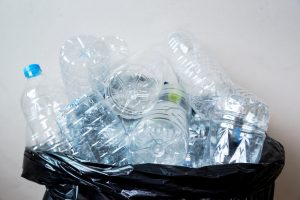 A PET reclaimer will open its third recycling plant next year, adding another 100 million pounds of processing capacity.
CarbonLite announced Tuesday that it will start up a $60 million facility in Pennsylvania by the end of 2019. The new plant joins the company's existing location in California and Texas, which together can process up to 200 million pounds of PET bottles per year.
In a press release, CarbonLite said the new plant would increase its processing capacity by about 50 percent. All three facilities will process a combined total of about 6 billion bottles per year. CarbonLite says it is the largest producer of post-consumer bottle-to-bottle food-grade PET resin in the world.
The company sells primarily to Nestlé Waters North America and PepsiCo.
CarbonLite receives half-ton bales of scrap PET from municipal curbside collection programs and deposit redemption centers. At its facilities, bales are broken and sorted to produce clear and green PET streams. These are ground into flakes and washed, and they may be melted, decontaminated and extruded into pellets. The U.S. Food and Drug Administration has issued a letter of non-objection allowing the technology to be used to recycle post-consumer plastics into food and drink packaging.
CarbonLite opened its first processing plant, a $60 million facility, in Riverside, Calif. in 2012. Last year, the company followed it up with a $62 million Dallas operation.
Photo credit: Pinglabel/Shutterstock
More stories about processing