A consortium focused on recovering marine plastics for recycling has rolled out its first product: an office chair made with recycled nylon.
The recycled-content chair is the result of a collaboration between Humanscale, a manufacturer of ergonomic office furniture and other items, and Bureo, a company focused on recovering fishing nets for recycling into a variety of products.
The two companies helped found the NextWave consortium, which aims to recover and recycle more than 3 million pounds of marine plastic within five years. Other founding members of NextWave are Dell, GM, Herman Miller, Interface, Trek and Van de Sant.
David Stover, acting CEO and co-founder of Ventura, Calif.-based Bureo, spoke with Plastics Recycling Update to provide more details on how the project successfully took nylon from the Pacific Ocean to a chair factory.
Collecting and cleaning
Bureo is a B Corp, which means it has been certified by the nonprofit B Lab to meet standards for social and environmental performance, accountability and transparency. The company has made headlines for its ocean plastics skateboards, sunglasses and, more recently, Jenga Ocean set. Nylon in those products comes from recovered nets sourced from Chile.
Stover said his company, with the support of the Chilean government, first established a small collection program with fishermen in 2012 and 2013. The program has been expanding since and now sources used nets from 23 communities in Chile.
The collection program works by paying fishers to return their obsolete nets to collection points. The alternative, Stover said, has often been nets abandoned at sea, burned on beaches or dumped in illegal landfills, which are used as ways to avoid paying for disposal.
Once gathered, the nets undergo a cleaning process. Contaminants, including rope, repair string and organic materials, are cut loose before the netting is soaked in fresh water to remove smaller contaminants such as sand. Then, they're hung to dry. A lot of the fishermen are contracted by Bureo to provide the cleaning service, Stover said.
The plastic is baled and shipped to reclaimer Comberplast, which is located on the outskirts of Santiago, Chile's capital.
Developing the recycling process
At Comberplast, the plastic undergoes shredding, melting, filtration and pelletization. Stover and Bureo's other co-founders, Kevin Ahearn and Ben Kneppers, who all have backgrounds in mechanical engineering, developed a recycling process to overcome challenges of working with the recovered nylon net. They had to address how nets could be shredded and fed into an extruder, as well as optimize melt temperatures and filtering, Stover said.
To refine the process, they used funds from a business incubator program in Santiago called Start-Up Chile, and they worked with experts at the University of Massachusetts Lowell Plastics Engineering lab and at Comberplast.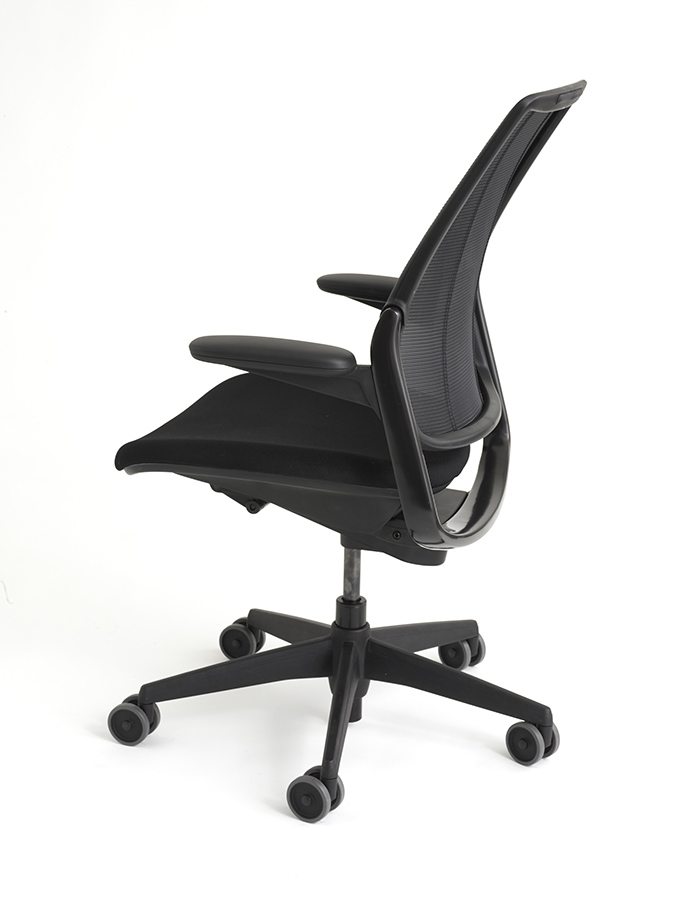 Because they weren't focused on many different polymers, they didn't have to worry about doing hundreds and hundreds of compounds, Stover said. In this case, there was no need to incorporate additives to change the polymer's properties, he said, noting that the plastic is pretty resistant to degradation that UV rays and other elements bring to other polymers often found in the ocean.
"I would stress that the most critical and difficult things to do in the recycling program are to run the operations to collect a consistent supply of material," Stover said.
To start, the pellets are sold at a premium price that reflects the relatively small scale of the program, extra logistics and cleaning needs, and fair wages, Stover said. As the program scales up, economies can be realized and the price reduced, he said.
Scaling up chair production
The chair, called Smart Ocean, incorporates two pounds of the recycled nylon pellets into its back frame, Stover said. That component is 100 percent recycled content. The pellets are compounded with glass fiber using a twin-screw extruder. The final chair back frame is made with 20-30 percent glass, which boost rigidity and structure. The addition of glass would be needed even if virgin plastic were used, Stover said.
A year ago, Bureo and Humanscale created a marine plastics concept chair, which was displayed at the NeoCon commercial design conference in June 2017, Stover said. A couple of months ago, a full production run began to create 10,000 chairs, he said. Another large run will start this spring.
"This isn't a marketing project. This is a long-term solution to the material," he said.
Stover said the pellets have passed testing for use in all component of the chairs. As a first step, however, it was a big ask to fabricate everything from the pellets, he said.
"The release was just in the back frame," he said, "but the plan is to roll this out to have greater coverage within the supply chain."
To receive the latest news and analysis about plastics recycling technologies, sign up now for our free monthly Plastics Recycling Update: Technology Edition e-newsletter.
More stories about challenging materials