China has issued its latest round of import permits for scrap materials, and approved volumes remain particularly low on the plastics side.
Meanwhile, a separate data set shows stark year-over-year declines in imports during the first two months of 2018.
The most recent permits, the 10th round this year from China, were issued Monday. They approve the import of 1,708 metric tons of scrap plastic, bringing the total approved tonnages for the year to 48,390 metric tons as of April 16.
Plastics Recycling Update previously compiled data from the first five rounds of import permits. The exact tonnages for 6th through 10th rounds issued since then are as follows:

Import permits allow companies to bring in a certain quota of material. Permits are issued in batches periodically throughout the year, often at twice-monthly intervals. Actual import volumes up to a given date do not necessarily correspond with the permit tonnages approved to that point.
Import data from the Hong Kong Trade Development Council shows China had imported roughly 10,000 metric tons of scrap plastic in January and February. Those figures cover imports from all countries into China.
For comparison, during January and February 2017, China imported 1.23 million metric tons of scrap plastic.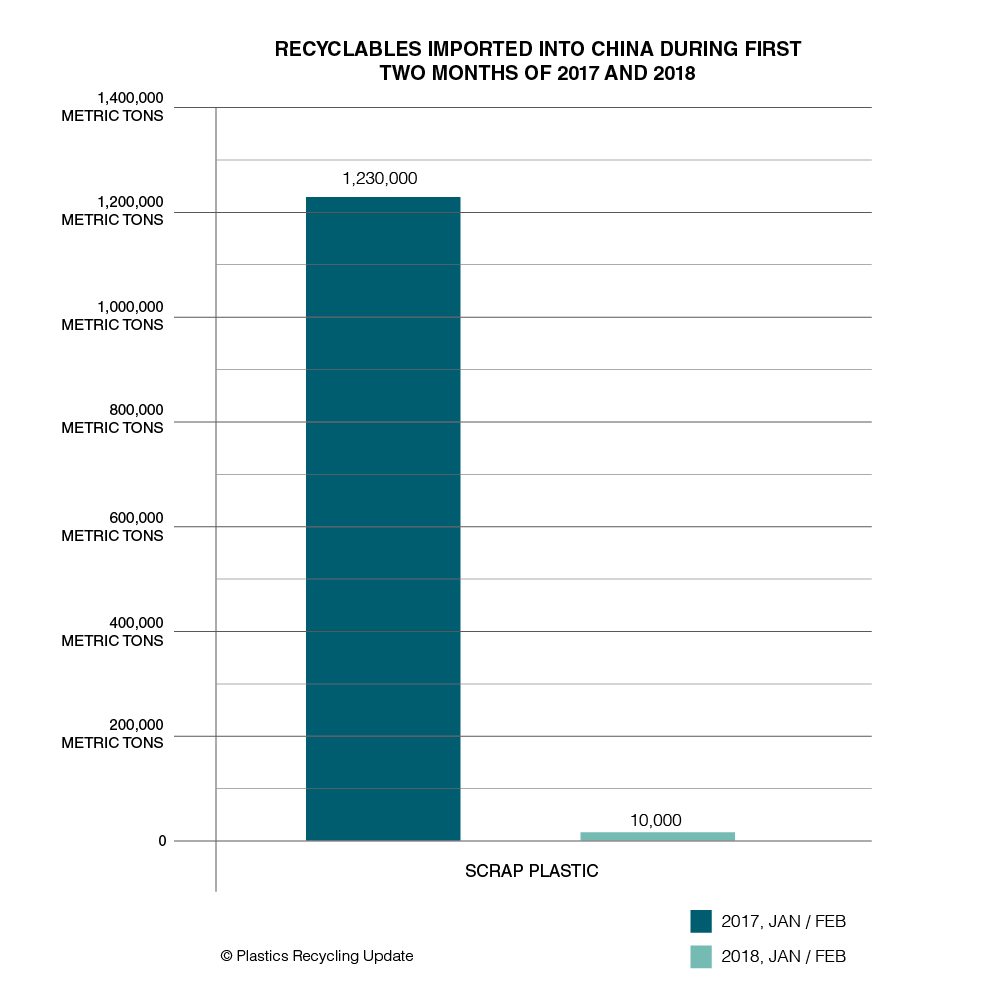 The volume decline echoes a recent Plastics Recycling Update analysis of falling scrap plastic exports from one California port district to China.
The permits reduction has been accompanied by heightened enforcement of permit violations. China's General Administration of Customs recently reported on its activities related to scrap imports and permit enforcement.
Through March 15 of this year, Shijiazhuang Customs said it discovered 10 enterprises suspected of reselling import permits or selling imported material without official permission. According to the customs authority, the illegal sales involved 2,362 metric tons of imported scrap plastics, as well as thousands of tons of other materials.
Meanwhile, customs agents in Hangzhou last week seized 469 metric tons of scrap paper that was mixed with plastic bottles and metal parts. State media outlet Xinhua said the shipment contained material that is banned from import.
"The customs authority has asked companies to return the waste as early as possible," Xinhua reported.
More stories about Asia