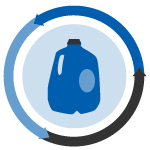 A project aims to recycle vinyl-coated polyester woven fabrics used on billboards, and compounding technology proves key to achieving the desired shelf appeal for a bottle made from marine plastics.
Gum recycling: BBC News writes about a British designer's quest to recycle chewing gum into a variety of objects, including containers, shoe soles and event coffee cups. The recycling partner in the project filters out wrappers before processing and compounding the material with other recycled resins. The final products contain at least 20 percent recycled content from the chewing gum.
Billboard recycling: A PVC industry group has concluded its project to explore recycling possibilities for vinyl-coated polyester woven fabrics used on billboards. According to Recycling International, the Vinyl Council of Australia's REMAKE project involved studying cost-effective processing techniques and finding potential end markets. The two-year project identified totes, floor mats, garden watering containers and roof tiles as a few of the possible end products.  
Chemical recycling: Entrepreneurs from British Columbia received some high-profile press for their work developing a chemical recycling method for plastics. CNN reports that Miranda Wang and Jeanny Yao, co-founders of startup BioCellection, engineered a catalyst capable of breaking down PE into its building blocks. The process, which takes about three hours, is currently achieving a 70 percent conversion rate.
New wash line: Petoskey Plastics, a blown film company that uses recycled content, will install an $8 million wash line at its 330,000-square-foot recycling facility in Hartford City, Ind., according to Plastics News. The purchase is described as the largest single equipment investment the company has ever made. Petoskey won the Plastics News Processor of the Year for 2017.  
The key is compounding: Plastics News also has an interesting look at how a compounder helped bring recovered marine plastics into an HDPE bottle for personal care products. The recovered plastics, branded OceanBound, are being used to package Vita brand shampoos and conditioners. According to a Plastics News video, Tennessee-based compounder Techmer PM ensured the metallic and pearlescent pigments desired for the bottle could be smoothly compounded into the OceanBound plastic.
Recycling contest: Global footwear and apparel giant Nike is sponsoring a contest to find recycling solutions for "Nike Grind" materials, including complex plastic, rubber and leather mixtures from shoes and textiles. The grand prize winner of the circular innovation challenge will receive a $30,000 award, and four other winners will each receive $5,000.
Plastics-to-fuel advancement: A team of higher education students in India developed a mobile, solar-powered pyrolysis unit. The New Indian Express reports on the plastics-to-fuel technology created by students at the Indian Institute of Technology Madras.
Marine plastics project: Plastics recovered from Eastern Europe's Danube River and the Mediterranean Sea will be used to make laundry detergent bottles. Nonprofit group Waste Free Oceans announced a three-year collaboration with Germany-based brand owner Henkel, which will use the recovered plastic in more than a million bottles of its Lovables soap. The partners aim to use 100 metric tons per year of recovered marine plastic.
To receive the latest news and analysis about plastics recycling technologies, sign up now for our free monthly Plastics Recycling Update: Technology Edition e-newsletter.