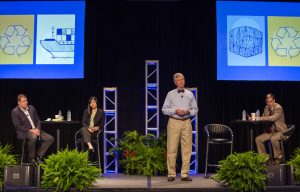 Last year presented an upheaval in the global recovered plastics market, and the impacts continue to roll in. Three experts recently shared their thoughts on the specific causes of the volatility.
China permeated the discussion, which took place at last month's Plastics Recycling 2018 event in Nashville, Tenn., but the analysts made it clear a number of factors in the prime resin market also shaped the global recycling landscape.
Kailin Fu, Tison Keel and Joel Morales, all staffers at research firm IHS Markit, took the stage to present details on a chaotic 2017. The session, titled "Pinning Down Shifting Markets," was moderated by Craig Cookson, director of sustainability and recycling for the Plastics Division of the American Chemistry Council.
Chinese changes dominate
Unsurprisingly, market trends were shaped in large part by forces in China.
Fu, associate director of IHS's chemicals and plastics group, said analysts had forecast in mid-2017 that China's virgin PE demand would grow about 6 percent year over year. By the end of the year, the market ended up growing more than 10 percent.
"The reason behind this drastic shift was policy change," Fu said. Those policies came on a range of fronts, not just import restrictions. For example, a major policy change will gradually phase out burning coal for residential heating in Northern China and replace it with natural gas. For the plastics industry, that led to a spike in HDPE pipe demand, and therefore higher overall virgin PE growth.
Morales, executive director of polyolefins Americas for IHS Markit, noted that "almost overnight we saw high-density polyethylene, which is probably the weakest, most competitive resin in the world, flip, to now it's selling at a premium in Asia, versus low-density."
But import restrictions had the most significant impacts on plastics demand. They reduced supply of recycled content and led to unexpected growth on the prime resin market, Fu explained.
"A year later, the National Sword has become a major event, and its impact on the global market turned out to be significant," Fu said.
National Sword has come to be used as an encompassing term for the various import restrictions enacted in 2017. At its core, it's a crackdown on importing and handling contaminated loads of waste and scrap materials.
The campaign has included three main aspects, Fu said. First, authorities began conducting extra inspections at China's 26 main ports, which has caused three to six months of delays on imports. Second, China's Ministry of Environmental Protection began visiting domestic factories and has shut down many that were not meeting environmental standards. Third, factories cited for environmental violations within the past two years have had their import licenses suspended or canceled.
"This doesn't mean no recycling; it means a cleaner, more efficient industry and higher domestic recycling rates," Fu said. "Large-scale, up-to-environmental-standard recycling facilities will be needed, and they are encouraged to be built in the industrial parks. This can be the new trend for the future recycling market."
This year, National Sword continues with a focus on targeting illegal foreign waste and recyclables imports, Fu said. On top of that, China enacted an imports ban on post-consumer PE, PP, PS, PVC and PET. Import permits issued during 2018 show a sharp reduction in plastic tonnages approved to enter the country.
Before 2017, imports of recycled PET supplied almost half of China's total supply of the recovered resin. Most plastics facilities are concentrated in Southeast and Northeast China along coastal areas, where they have easy access to imported materials, Fu said.
"Import is a crucial element of the China recycled market," Fu said. "This new policy is going to reshape the landscape of this market."
Demand for recyclables collapses
In 2013, the Green Fence campaign led to a reduction in Chinese imports of scrap plastics. Two years later, pricing was the main driver of a 1.2-million-metric-ton decline in recycled plastic imports, as low crude oil and prime resin prices led to virgin substitution.
In 2017, PE imports fell another 23 percent, or 1.1 million metric tons, due to the range of Chinese policy changes, Fu explained.
This year, analysts expect a further decline of 2 million metric tons in demand, due to the full implementation of the import ban.
China's recycled resin demand as a percentage of total demand grew from less than 10 percent before 2001 to as high as 22 percent in 2007 and 2012, Fu said. But after crude oil prices plummeted around 2015, recycled demand dropped to between 10 and 15 percent.
"With the new policy in 2017, we expect this percentage to continue to fall to between 6 to 7 percent and stabilize for the next couple years," Fu said.
Fu said that after Green Fence, Indonesia, Malaysia, Turkey and Vietnam took extra volume, partially absorbing the Chinese reduction. That trend has shown itself again following the 2017 turmoil, as those and other countries substantially boosted their imports of scrap materials.
"Some of these materials will have to either find a home in another country, or to be processed domestically, or they will have to end up in a landfill," Fu said.
Prime market examination
Keel, senior director of PET, PTA, EO and derivatives at IHS Chemical, laid out how prime resins impacted recovered plastics markets in 2017.
"The world has too much prime PET capacity," Keel said, noting there is 15 to 20 percent more capacity than demand can consume, and the market is not growing at the same rate it used to.
The U.S. PET industry has faced competition from China and India in the past, and the Department of Commerce has implemented antidumping measures. More recently, Taiwan, Korea, Brazil and others have begun selling large quantities of PET into the U.S. market as well, Keel said, prompting a new Commerce investigation. The department is expected to issue its decision in March, Keel added.
"Most people expect we're going to get some significant preliminary duties put on to these polymers which will block out most of the rest of Asia," Keel said. "Now, this is relatively positive news for the recycle industries, because anything that holds up or supports higher prices for virgin, prime PET counteracts the trend of the last few years which has been competition that drove people away from recycle for the lower price offered by prime PET."
On the prime side, the main trend of 2017 was low profits and high construction costs, leading to a number of reductions in operating rate, Keel said. Operating rate refers to the total percentage of production capacity that's in use. M&G, the virgin PET giant, declared bankruptcy during the fall and put on hold some of its new capacity.
"All of this has created a much tighter market condition for PET, and the producers that are left have taken advantage of that, and they've jacked their prices up," he said, estimating that producers have raised prime PET resin prices by 8 to 12 cents this year.
Those higher prices have remained firm, Fu said, even during the Chinese New Year period, when they usually decline.
Morales said the situation on the recycled polyolefin side is positive. Prices for recycled PE and PP are higher than analysts had expected, he said, due to the higher prime prices.
"It's almost like every break you could have to keep the price up, since August, has happened," Morales said. "Typically, it doesn't work that way, but everything has happened: Demand's been stronger and production's been terrible, and it's all helped to support a higher price."
China's import ban spurred a lot more demand than the prime industry was expecting.
"Literally, reactors' worth of resin sucked up in 2017, because China used a lot more than we thought," Morales said.
Also, new capacity did not necessarily translate to increased production, Morales said. He pointed to a number of plants that opened in the U.S.during the fall but have not hit full output because of various delays, including those caused by hurricanes.
More stories about markets