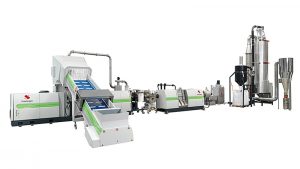 Avangard Innovative recently installed a customized recycling line at its LDPE recovery facility in Houston. The system is aimed at tackling an issue the company faced while processing commercial film: odor.
Avangard Innovative processes and repelletizes retail film at its Houston recycling plant. German equipment manufacturer Starlinger was chosen to provide the recycling lines for the facility. Avangard installed the company's recoSTAR dynamic 165 C-VAC, which is capable of processing up to 3,300 pounds of post-consumer film per hour. The recoSTAR dynamic line takes the material through preparation, extrusion, melt filtration and pelletization stages.
Although commercial film provides a relatively clean stream, it often contains paper labels. These created a problem on the recycling line, and Avangard asked Starlinger for a possible solution.
"Processing went smoothly, but when the client inspected the material in the U.S., it was discovered that the pellets had taken on an unpleasant odor," according to a Starlinger press release. "An investigation showed that the smell had been caused by the exposure of paper residues to heat during the extrusion process."
Starlinger employed a three-step odor-reduction process to address the problem. In the feeder, where film is prepared for extrusion, the equipment heats and homogenizes the material, removing many stronger odors. Next, the plastic enters a degassing module, which removes "deeply embedded odors," according to Starlinger.
Finally, regranulate goes through what the company calls a "smell extraction unit," which gives the material one last pass to remove lingering odors.
"We feel with the entire system in place, including the Ettlinger continuous rotating filter and optical sorting in conjunction with the Starlinger recycling line, we have the best opportunity for success in the marketplace," Jon Stephens, Avangard's chief operating officer, stated in the Starlinger release.
Avangard plans to install a second Starlinger recycling line at its LDPE facility this year.
More stories about technology
To receive the latest news and analysis about plastics recycling technologies, sign up now for our free monthly Plastics Recycling Update: Technology Edition e-newsletter.