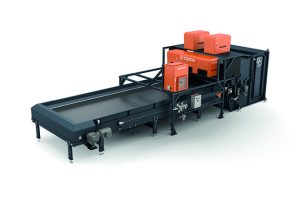 A new Tomra system adds laser technology to the sort line, increasing product purity without slowing throughput.
The company's laser object detection (LOD) system complements other sorting technologies, such as near-infrared (NIR) sensors, by targeting spectral and special characteristics optical they can't perceive.
"NIR technology cannot detect item such as black plastic and rubber, glass and other waste items," said Carlos Manchado Atienza, regional director at Tomra, in a release. The laser units, he added, do detect those materials.
Besides black and other plastic materials, the laser unit can separate out glass.
According to Tomra, which makes the Autosort and Finder optical sorting systems, the laser detection units can increase the purity of sorted material streams by up to 4 percent without sacrificing the sort line's productivity. The equipment can help companies "meet ever-tightening final product purity requirements such as the China National Sword standard," according to Ralph Uepping, technical director of recycling for Tomra.
The laser unit can be added as a standalone new circuit on a sorting line, or it can be integrated into existing optical sorters. For example, it bolts onto Tomra's FINDER metal sorting equipment as a space-saving measure.
Tomra's laser detection system is designed to allow large and small material to pass under the equipment without getting stuck, the company says.
More stories about technology
To receive the latest news and analysis about plastics recycling technologies, sign up now for our free monthly Plastics Recycling Update: Technology Edition e-newsletter.