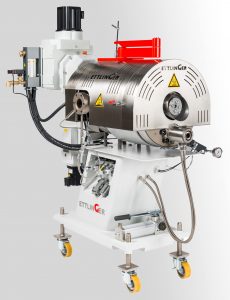 A new melt filter from Ettlinger is designed for handling heavily contaminated plastic loads and achieving high throughputs.
The German company's ERF350 can remove foreign particles, including paper, aluminum, wood, elastomers or high-melting polymer composites containing up to 18 percent contaminants. That's consistent with all ERF models.
The difference in the ERF350 is the fact it's capable of a throughput of 3,800 kilograms per hour (about 8,380 pounds per hour), a 27 percent increase over the ERF250, according to Ettlinger. And the increase is possible even with the same filtration surface area and small equipment footprint. Additionally, experience to date has shown energy usage is about the same as that of the predecessor model.
"Users of our new ERF350 melt filter very soon realize that their investment pays for itself in minimal time owing to the clearly superior performance," Volker Neuber, Ettlinger's managing director, stated in a press release. "It's a highly efficient way for recycling plants to strengthen their competitiveness."
The first model in the new generation of ERF series filters, the ERF350 is suitable for processing all standard polyolefins and polystyrene, as well as numerous engineering plastics.
To receive the latest news and analysis about plastics recycling technologies, sign up now for our free monthly Plastics Recycling Update: Technology Edition e-newsletter.
More stories about technology