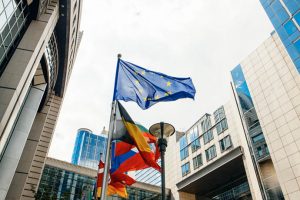 With a new strategy to tackle plastics, the European Commission says it has the recycling industry's back.
The commission, which is the executive branch of the European Union, on Jan. 16 announced the first-ever pan-European strategy on plastics. The commission laid out a broad strategy, but implementing it will take additional steps over the coming couple of years.
Parts of the plan directly affect the recycling industry. As examples, it wants to mandate that all plastic packaging placed on the EU market be reusable or recyclable in a cost-effective manner by 2030. It will look at regulatory and economic incentives to use more recycled content in plastic products. Additionally, the commission will also issue new guidelines on source-separation collections and sorting.
A group called Rethink Plastic, an alliance of nonprofit groups, released a statement about the strategy.
In a separate announcement from the private sector, six industry associations have signed onto a voluntary commitment to work toward a 50 percent plastics recycling rate in Europe by 2040. The six groups are Plastics Recyclers Europe (PRE), Petcore Europe, the European Carpet and Rug Association (ECRA), the Polyolefin Circularity Platform (PCEP Europe), European Plastics Converters (EuPC) and VinylPlus.
In the subcategory of plastic packaging, the groups have set a goal of achieving a 70 percent recycling and reuse rate.
"These challenging voluntary commitments will enable the plastics industry to strive for the best possible solutions to maximise the potential of the different polymer types for a more circular economy," according to the "European Plastics Industry Circular Economy Voluntary Commitments" document, which was signed by industry association heads on Jan. 16.
More stories about Europe