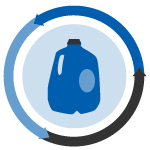 Plans for a fiberglass recycling R&D center advance, and a German company wins an award for its tracer-assisted optical sorting technology.
Low-cost molding: Canadian college students have received a $150,000 grant for a pilot project to collect and process post-consumer plastic and mold it into new products using low-cost injection-molding equipment, according to the Ottawa Business Journal. Their company, Polycycle, uses relatively inexpensive molding equipment that will be accessible to schools, non-profit groups and entrepreneurs. PolyCycle is housed at the University of Ottawa's student-run social enterprise incubator.
Fiberglass recycling: Citing the large number of derelict boats left in the wake of the 2017 hurricanes, American Fiber Green Products has announced it expects to begin building a fiberglass recycling facility during the first quarter of this year. The company is planning the facility, which will be used for R&D and demonstrations, in Tampa, Fla.
New PTO technology: A Swedish company says its plastics-to-oil technology can create oil at a production cost of $25 per barrel. Cassandra Oil (CASO) announced its equipment can convert 1 kilogram of recovered plastic into 0.8 kilograms of oil, 0.1 kilograms of gas and 0.1 kilograms of carbon black.
Textile recycling: In other news out of Sweden, the research program Mistra Future Fashion has devised a recycling process to recover polyester monomers from cotton-polyester textiles. Recycling International reports the Blend Rewind technology generates two "pure" monomer fractions from the plastic and a high-quality viscose filament fraction from the cotton.
Tracer technology: A German company has received an award for its tracer-based sorting technology, which marks products so that optical sorters can later identify and separate them for recycling. According to a press release, Polysecure, which developed the marker materials, optical detectors and its own sorting machines, received the German StartGreen Award. The technology has been used on PVC window profiles so the glass-fiber-containing PVC could later be sorted from other PVC.
To receive the latest news and analysis about plastics recycling technologies, sign up now for our free monthly Plastics Recycling Update: Technology Edition e-newsletter.