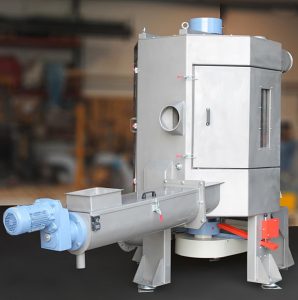 Herbold's HVT dryer model employs a vertical setup to tackle regrind from PET bottles, hollow bodies, polyolefins and other plastics.
The vertical dryer "ensures longer dwell time in the drying chamber" and "offers the added advantage of significant space savings versus horizontal systems," Herbold said in a release.
The dryer accelerates material against the screened stator surface, which is the stationary part of the rotor mechanism. This is known as a centrifugal drying system, according to Herbold.
The new model includes a smaller motor than previous dryers, which provides substantial energy savings, according to the manufacturer. The drying system can achieve a PET flake throughput of between 2.5 and 3 tons per hour using 75 horsepower, compared with other standard dryers that would use 150 horsepower for the same results.
Other improvements over past models include adjustments to the rotor and housing, changes which are aimed at reducing fines and increasing yield. The unit, which is available in standard or stainless steel, also includes several features designed to facilitate accessible repair.
More stories about technology
To receive the latest news and analysis about plastics recycling technologies, sign up now for our free monthly Plastics Recycling Update: Technology Edition e-newsletter.