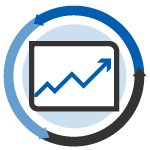 The past month has brought a softening of prices for one key recovered resin but relative stability for another.
The current national average price of post-consumer PET beverage bottles and jars continues to weaken, currently trading at 13.59 cents per pound. In early November, this grade was trading 4 percent higher, at 14.09 cents per pound. This common curbside grade was trading in July 2016 at 15.93 cents per pound.
The current national average for post-consumer natural high-density polyethylene (HDPE) from curbside collection programs remains steady over the past month at 30.13 cents per pound. Meanwhile, color HDPE dropped 5 percent over the past month, from 16.81 to 16.00 cents per pound.
Commingled grades (Nos. 3-7) are now trading under 1 cent per pound, currently at an all-time average low of 0.63 cents per pound.
Post-consumer film prices continue to drop. The national average for Grade A film is currently 11.31 cents per pound, down 5 percent from last month's national median price of 11.94 cents per pound.  During that same period, Grade B film has dropped 3 percent, from 4.19 cents per pound to a current low of 4.06 cents per pound. Grade C film remains unchanged at a low 1.38 cents per pound.
These prices are as reported on the Secondary Materials Pricing (SMP) Index. This pricing represents what is being paid for post-consumer recyclable materials in a sorted, baled format, picked up at most major recycling centers.
For a free trial to SMP's Online Post-Consumer Pricing Index, visit the Recycling Markets website. You can also contact Christina Boulanger-Bosley at [email protected] or call 330-956-8911.