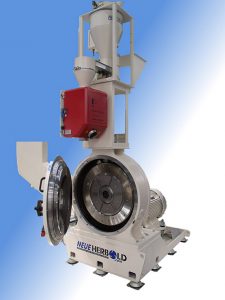 German company Neue Herbold has re-engineered a plastics pulverizer machine to increase throughput without using more energy.
The company's ZM800, part of a line of pulverizers meant for fine grinding of plastics, now has a redesigned housing. The unit allows spinning material to more easily be conveyed to the outlet.
"The material's angular momentum is used for the discharge, since the material is pre-accelerated for the subsequent air conveyance," according to a company press release. "This results in … higher throughput rates while the energy consumption remains unchanged."
The mills create powder out of a variety of granulated plastics, including PE, PVC, PC and others. The feed material should be no larger than 6 to 8 millimeters in size.
Neue Herbold offers a range of scrap plastic processing machines, including equipment for size reduction, washing, drying and separation.
To receive the latest news and analysis about plastics recycling technologies, sign up now for our free monthly Plastics Recycling Update: Technology Edition e-newsletter.
More stories about technology